VIA – MLIVE
High Lake Michigan waves delight surfers, strong winds knock out power
Published: Friday, September 30, 2011, 12:02 PM Updated: Friday, September 30, 2011, 12:36 PM
Megan Hart | The Muskegon Chronicle By Megan Hart | The Muskegon Chronicle
The waves crashing on Muskegon's beaches didn't appear as large as predicted Friday morning, but that didn't stop area surfers from getting out to enjoy the water.
Sam Sherburn, of Norton Shores, met friends at Pere Marquette Park around 8 a.m. Friday to surf. The waves didn't appear to reach the 14- to 18-feet heights the National Weather Service predicted, but their smooth shape made up for it, Sherburn said.
"Usually it's really choppy," he said. "The current might be a little rough."
Chris Jansen-Yee, a former Hawaii resident who lives in Norton Shores, said he stopped by to check out the waves Friday morning on the way to work. He and his son had gone surfing Thursday night, but the waves were at their best Friday, he said.
"My son and I went last night to Grand Haven Pier, and this is a ton better," he said. "The conditions are so rare when (the water) breaks so nicely for surfing."
The National Weather Service had issued a wind advisory for the lakeshore, predicting gusts of up to 55 mph, through 2 p.m. Friday.
Power outages reportedly affected 2,558 Consumers Energy customers in Muskegon County and 397 customers in Ottawa County as of 7 a.m. Friday. Two additional Muskegon County residents, who are Great Lakes Energy customers, were without power, as were 422 Great Lakes customers in Newaygo County, 31 customers in Mason County and 434 in Oceana County.
Wave height data was unavailable Friday morning after 4:50 a.m., when 21-foot-high waves were recorded.
The prospect of seeing unusually high waves drew Muskegon resident John Lambert to the lake at about 6:45 a.m. Friday. He parked across the street from the water treatment plant to watch the waves break, and estimated five to 10 other cars were there.
"The waves were coming all the way up to the shore and crashing on the rocks," he said, but they started to diminish by 7: 30 a.m.
For the full article go here:
http://www.mlive.com/news/muskegon/index.ssf/2011/09/high_lake_michigan_waves_delig.html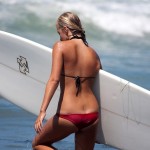 Become A Sponsor!
If you have a product or service that is a good fit for our surf community, we have opportunities for you to sponsor this blog!
Download our media kit now!