VIA – CVT
Canadian skier dies in crash at World Cup event

CTVNews.ca Staff
Date: Sat. Mar. 10 2012 12:58 PM ET
A Canadian skier killed in a tragic crash during a skicross race in Switzerland Saturday was described as the kind of athlete kids looked up to at his home club, a veteran Ontario ski coach says.
Nik Zoricic, 29, of Toronto, Ont., was killed when he smashed into the safety netting at the side of the course in Grindelwald after going wide in the final jump in a World Cup race.
He died in hospital around 12:35 p.m. Swiss time after suffering severe head injuries. The accident occurred in the finish area during the fourth heat of the finals.
"Whenever he could fit it into his schedule, he would be here signing autographs and skiing with all the young racers . . . it's a pretty sad day," Craigleith Ski Club head coach Dave Campbell told CTV News Channel Saturday.
"He was someone all the little ski racers here looked up to and the club is kind of just distraught and still in a bit of a state of shock," he said in a telephone interview from the club near Collingwood, Ont.
"Nik was a role model. He was a mentor, just a complete all-round good guy," Campbell said.
Television pictures showed Zoricic coming off a jump to the right and then tumble through the nets as his skis and poles were thrown clear.
The International Ski Federation cancelled the Saturday event as well as Sunday's World Cup race.
"Nik was a very talented young ski racer and a great athlete who was much loved by his teammates and fellow competitors," Alpine Canada president Max Gartner said in a statement released Saturday.
"He will be greatly missed by all of us and the ski community as a whole," he said.
Zoricic has raced on the World Cup circuit for more than three years and was competing in his 36th event.
He placed eighth in the 2011 World Championships held at Deer Valley, Utah.
Campbell said it was clear from a young age that Zoricic had a talent for ski racing. He began skiing at the club when he was just three years old.
"He progressed pretty quickly right up through the racing system to the provincial team and national team and then switched over to the national skicross team," he said.
Other skiers also sent their condolences, many using the social media site Twitter.
Canadian Alpine racer Kelly VanderBeek tweeted that she grew up skiing with Zoricic and his father.
"I'm a mess, so I can only imagine how his family is. I'm so very sorry. Sending Love," she wrote.
Skicross has been described as…
For more on this tragedy go here:
http://www.ctv.ca/CTVNews/TopStories/20120310/world-cup-skicross-zoricic-crash-120310/#ixzz1ok8ZFnid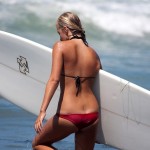 Become A Sponsor!
If you have a product or service that is a good fit for our surf community, we have opportunities for you to sponsor this blog!
Download our media kit now!