VIA – DAILY MAIL
Kite surfer fights off sharks with a knife while trying to cross the Red Sea
Shark fight: Jan Lisewski's attempt to Kite Surf from Egypt to Saudi Arabia ended in disaster
By Damien Gayle
Last updated at 8:36 PM on 7th March 2012
A kite surfer spent a night locked in bloody mortal combat with a shiver of sharks after his attempt to cross the Red Sea went badly wrong.
Jan Lisewski, from Poland, spent hours hacking, slashing and stabbing at the marine predators in an extraordinary struggle for survival last weekend.
He had been attempting to cross the sea from Egypt to Saudi Arabia, but was cast adrift for nearly two days after winds suddenly died.

The 42-year-old was forced to turn his kite into a raft to sleep in, but the brightly coloured material attracted sharks, pitching him into a desperate fight for his life.
Gdansk-born Mr Lisewski was two-thirds of the way through the 124-mile trip from El Gouna to Duba last Saturday when the seas suddenly went calm.
He sent an SOS signal straight away, but it took the Saudi Coast Guard nearly 40 hours to locate him in the channel, which separates Africa from the Middle East.
With only two energy bars to keep him going, he hunkered down in his kite-raft for the night, but quickly ran out of water.
Then, on his second night drifting helplessly in the vast expanse of water, Mr Lisewski's already difficult ordeal took a turn for the worse.
Drifting into a reef, he suddenly found his raft being circled by 18ft-long Red Sea sharks.
Attracted by the brightly coloured kite, it wasn't long before the marine predators closed in for the kill…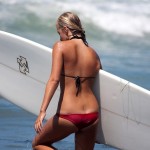 Become A Sponsor!
If you have a product or service that is a good fit for our surf community, we have opportunities for you to sponsor this blog!
Download our media kit now!