WILSON!!!!
VIA – AOL

Castaways Found On Pacific Atoll After 33 Days At Sea
First Posted: 11/28/11 06:40 AM ET Updated: 11/28/11 01:41 PM ET
Two men from the Pacific island of Kiribati who were adrift for 33 days at sea have turned up on the Namdrik Atoll, part of the Marshall Islands, some 300 miles away.
The two men, aged 53 and 26, were picked up by members of the U.S. Coastguard, the Telegraph reports.
The two men were sick and weak but in "reasonable" condition, the paper added.
Locals tell the paper that these kinds of incidents happen more often than you'd think. Giff Johnson, the editor of the Marshall Islands Journal, told the Telegraph: "As odd as it may seem, the Marshall Islands hosts Kiribas drifters quite frequently. It's not that it happens all the time. Let's just say people from Kiribas are very hardy individuals. They get lost on a little boat and manage to persevere. It is an amazing thing."
The two men were reported missing on October 22nd, ABC Australia reports.
Proper medical assistance lies in capital of the Marshall Islands. The one glitch? The airplane that flies from Namdrik to the capital once of week has been grounded for maintenance, Radio Australia reports.
For the original post go here:
http://www.aol.com/2011/11/28/castaways-found-on-pacifi_n_1116822.html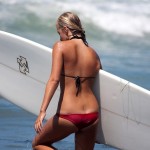 Become A Sponsor!
If you have a product or service that is a good fit for our surf community, we have opportunities for you to sponsor this blog!
Download our media kit now!