VIA – BLEACHER REPORT
Lindsey Vonn Gets Divorced: Is She the Hottest Single Athlete Now?
By
Zack Pumerantz
(Featured Columnist) on November 28, 2011
While alpine ski racer Lindsey Vonn is known for her ability on the slopes and her stellar beauty, the sexy athlete is now garnering attention for her new relationship status.
With the prolific skier set to divorce husband Thomas Vonn, the world is undoubtedly wondering where she ranks among single athletes.
Let's take a look at the hottest of those currently on the market.
Enjoy!
…

Sally Fitzgibbons
While this Australian professional surfer is known for becoming the world's top-ranked female surfer after winning her first two ASP World Tour titles this year, Sally Fitzgibbons is seemingly moments away from embracing a modeling career…

Erica Hosseini
It seems as if professional surfers are continuing to shadow the world of sexy athletes.
Their careless nature and relaxed aura create a comfortable scenario for any hopeful bachelor.
How she's single is quite baffling.

Anastasia Ashley

While she was voted PETA's "sexiest vegetarian," this sexy surfer is most applauded for her beauty and affinity for the ocean.
Her relaxed lifestyle easily attracts even the most skeptical bachelors.
For all the photos and their 'ranking' go here:
http://bleacherreport.com/articles/959447-lindsey-vonn-gets-divorced-is-she-the-hottest-single-athlete-now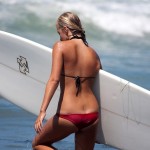 Become A Sponsor!
If you have a product or service that is a good fit for our surf community, we have opportunities for you to sponsor this blog!
Download our media kit now!