VIA – NY TIMES

Catching a Wave and Some Cash Off Long Island

PHOTO: Kelly Slater and Owen Wright, above, had met just two weeks before in the final of the Billabong Pro Teahupoo, with Slater winning in 12-foot surf.
By MAX KLINGER
Published: September 9, 2011
LONG BEACH, N.Y. — In crisp, overhead barrels, the Quiksilver Pro New York competition concluded Friday with a display of performance surfing that highlighted both the past and the immediate future of the sport.
The 21-year-old Australian Owen Wright surfed his way through three heats to claim his first Association of Surfing Professionals victory and the biggest prize check in pro surfing history — $300,000.
For much of the day, and much of the world tour event, Kelly Slater looked as if he would pick up his third victory of the season. Doing some of the best surfing of his life, Slater, a 39-year-old 10-time world champion, had dispatched the most dangerous surfers in round after round, culminating with a perfect 10 points in a semifinal ride in which he landed an improbably large aerial. Afterward, he threw his hands up to the crowd in a rare show of emotion.
But before he could fully celebrate, he had to face the lanky upstart Wright.
The crowd of a thousand or so spectators that had gathered by 8 a.m. grew to tens of thousands by the noon final. After a week of conjecture, debate and finger-crossing, the last of Hurricane Katia's waves found their way to Long Beach's offshore sandbars, producing groomed, head-high tubes.


Slater and Wright had met just two weeks before in the final of the Billabong Pro Teahupoo, with Slater winning in 12-foot surf.
But Wright got his revenge in the sixth of 11 tour events.
Wright scored a 7.0 out of 10 on his first wave. Just a few minutes later, he nabbed one of his highest-scoring waves of the contest, a speedy wall on which he bent his sinuous 6-foot-3 frame into a series of powerful hacks and floaters and an aerial. It was good for a 9.23.
But working himself out of a competitive hole is something of a specialty for Slater, who is known to unleash his most impressive outbursts in the final minutes of a heat. He had won that way in his two previous heats, beating Josh Kerr and Taj Burrow.
Riding an experimental five-fin board, he mounted a comeback against Wright, uncorking a series of his patently agile maneuvers. But in the end Slater had only a wave-combination score of 14.90 and a broken board to hold up to Wright's 17.90.
"Kelly's been a huge inspiration to me," Wright said. "I've learned so much from him and will continue to, so it's an honor to have this experience with him."
After the champagne had been sprayed and Wright had hoisted his Statue of Liberty-inspired trophy, Slater stopped to offer a compliment.
"I think the wind better suited his forehand surfing," he said. "But in the end he just surfed really great. He's probably the most well-rounded guy on tour."
For the full article and lots of photos go here:
http://www.nytimes.com/2011/09/10/sports/australian-wins-pro-surfing-event-off-long-island.html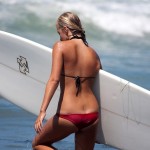 Become A Sponsor!
If you have a product or service that is a good fit for our surf community, we have opportunities for you to sponsor this blog!
Download our media kit now!