VIA – SIGN ON SAN DIEGO
1.9 million gallon sewage spill closes beaches
Surf contest delayed by pollution
By Matthew T. Hall, Reporter – San Diego
Mike Lee, Reporter – Environment
Friday, September 9, 2011 at 9:24 a.m.
All beaches north of Scripps Pier through Del Mar and Solana Beach have been closed for at least two days because of suspected sewage contamination from a spill caused by Thursday's power outage.
An estimated 1.9 million gallons of sewage spilled from the San Diego Metropolitan Wastewater System Pump Station #64 on Roselle Street into the Los Penasquitos Lagoon, according to the latest figures from city and county officials.
The sixth annual Surf Dog Surf-A-Thon was rescheduled because the spill polluted Dog Beach in Del Mar where the event was scheduled to take place. It now will be held from 8 a.m. to 2 p.m. on Sept. 25.
Regional water pollution regulators said they were only aware of one other major spill related to the power outage — a 120,000 leak in the South Bay.
The Los Penasquitos spill was discovered at 5:50 p.m., about two hours after the power went out in unprecedented ways across the county and in parts of Orange County, Arizona and Baja California. The leakage stopped about three and a half hours later when one of the pump station's power sources was restored.
Even at the smaller volume, it was among the largest sewage spills in the county over the past decade. The last big series of spills was related to the rain storms that lashed the region in December.
The San Diego Mayor's Office said Friday morning that the beaches will remain closed for at least two days.
Signs will be posted at major beach access points.
A release that went out at midnight, about six hours after the spill was discovered, said crews were working to control the release but hadn't yet. County officials said the delay was linked to the difficulty in communicating as they were trying to get details during the blackout.
Another sewage spill occurred at Pump Station No. 1 near Interstate 5 and state Route 54 in the South Bay, releasing an estimated 120,000 gallons. The spill reached the Sweetwater River, which flows into San Diego Bay.
Signs warning of contamination will be posted at Bayside Park in Chula Vista and the San Diego Bay area accessible via the Silver Strand.
For the full San Diego Surf Report go here:
http://www.signonsandiego.com/news/2011/sep/09/32-million-gallon-sewage-spill-closes-beaches/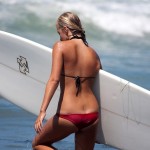 Become A Sponsor!
If you have a product or service that is a good fit for our surf community, we have opportunities for you to sponsor this blog!
Download our media kit now!