VIA – DAILY MAIL UK
Chasing Aurora: Northern Lights and chilly nights on a winter odyssey in north Norway
By Oliver Pickup
Last updated at 5:50 PM on 7th October 2011
It is the dead of night in a sleepy fishing village in northern Norway – and I am crouched, shivering on an old road bridge. My teeth are chattering, but my soul is seared by a kaleidoscope of colours exploding, illuminating the crisp polar sky above me.
With my camera screwed atop a tripod, I attempt to capture the florescent green-and-red hues of the fabled Northern Lights – or aurora borealis – as they arc and rake between the stars, playfully jiving, twisting, curling and swirling.
I am open-mouthed, hypnotised by the beautiful natural theatre unfurling before my eyes. And then this life-affirming moment is interrupted by a tug at my coat sleeve.
Scroll down to see a video of the Northern Lights

Woman of the night: The aurora borealis have been compared to a teasing female
'She's a fickle, capricious woman, Aurora,' smiles my guide Knut. 'She's like other women: she likes to dance, play and loves to make you chase her.'
He's not wrong. This is the last night of a four-day odyssey, which begins in the northernmost city in the Arctic Circle, Tromsø – and includes a lazy boat trip around frosted fjords, deep-sea fishing, snow-shoe hiking, dog-sledding and Arctic surfing.
And only now, on the way back to my simple wooden fisherman's lodgings for the final time, has Aurora deigned to flirt.
I have already given up hope of witnessing this celebrated phenomenon – caused by the collision of charged solar particles with the Earth's magnetic fields, and visible between the autumn and spring equinoxes. But only when conditions are right.
During my stay I have suffered days of overcast weather – and the myth of the Northern Lights appears to be just that: a myth. But I also find compensation, distracted by the multitude of other magical experiences on offer in northern Norway.
Stepping off the plane in Tromsø – having flown from London via Oslo – I feel the freezing cold grip me almost immediately. At 69 degrees north, this should be no surprise. I am not mentally prepared for the chill – nor the blissful tranquility.
Clambering aboard cruise ship MS Trollfjord – one of a dozen Hurtigruten liners – I gulp in the clean midnight air ahead of an overnight journey due south.
The Hurtigruten cruise liner pulls out of Tromsø on its route south to Bergen
The Hurtigruten (literally 'express way') fleet was established in 1893 by the Norwegian government to improve communications along the long, jagged coastline, and transport fish and other cargo to Russia, and European destinations.
It still provides the same trip from Kirkenes to Bergen, north to south, but now it is an activity exclusively reserved for tourists.
While the claim that it is 'the world's most beautiful voyage' may seem somewhat grand, one has to concede that here is a journey that is richly rewarding; a fusion of the breathtaking and the calming, the spooky, ethereal fjords gliding by.
Over 135 metres long, and with the capacity to house more than 800 passengers, MS Trollfjord can be an oddly isolated place, infused with that loneliness of crowds. But that is part of its charm. At times I feel as if I am in a murder mystery. And not the wham-bam Columbo kind, more a Scandinavian slow-burner.
To fight the night ennui (it does get dark early) I make a couple of Norwegian friends, who are exchanging stories and drinking aquavit at the bar.
Fire in the sky: After many days of waiting, Oliver finally had his encounter with the Northern Lights
For the full article and more amazing photos go here:
http://www.dailymail.co.uk/travel/article-1389742/Northern-Lights-A-North-Norwegian-odyssey.html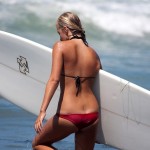 Become A Sponsor!
If you have a product or service that is a good fit for our surf community, we have opportunities for you to sponsor this blog!
Download our media kit now!