VIA – PSYCH CENTRAL


Is Surfer Anthony Ruffo Looking For A Free Ride?
By Richard Zwolinski, LMHC, CASAC
As reported in the New York Times, world-class surfer Anthony Ruffo has once again been busted for methamphetamine possession and dealing. The surfer, who is 48, used to "partner" in his drug-dealing with a Santa Cruz, California street gang called the Norteños. They gave him the drugs to sell, and he sold them and in return received both money and protection.
He was busted in 2005 and got probation and court-mandated treatment. Then, he was busted again in the summer of 2010. This last time, something clicked. He began a variety of treatments, including some alternative treatments and began to see his life in a new way. The constant partying and celebrity lost some of its appeal.
Now, he's been sober for 11 months and working with other addicts. Ruffo says he wants to avoid an impending 5 year prison sentence and continue his probation and peer-counseling. In the NY Times interview Ruffo says:
"Why put that in a cage?"
"If I come into court a changed man from when I got busted and I'm showing all these positive results, why wouldn't you want to keep that person going in that direction?"
He not only faces a prison sentence. He also faces serious skepticism by those who view his appeal for no jail time as a PR scam.
I haven't met Mr. Ruffo. But I've met and worked with thousands of drug addicts similar to him. Some have been lawyers, doctors, bus drivers and teachers. And quite a few have been celebrities like Mr. Ruffo. If he's been evaluated by mental health and addiction professionals and they believe he is capable of maintaining sobriety, I would be very willing to believe Mr. Ruffo.
Since the mid 19-50s, the AMA has defined drug addiction as a primary, progressive, chronic and even fatal disease. It is a disease of family, feelings and self-deception. Addicts must be responsible for their recovery as well as held accountable for any harm they did while using. Relapse is definitely part of the illness. However, people do enter life-long recovery, though it often takes more than one episode of treatment.
In prison, Ruffo will not get real treatment. Although drug addiction and dealing drugs is ultimately a violent crime that harms self and others, especially when one is involved with a violent street gang, perhaps a new model of accountability needs to come into play.
Ruffo sounds like he's taking responsibility. But, yes, he must be held accountable for past crimes. It also sounds like he has actually become a productive citizen and wants to keep on this track. Therefore, I agree with Mr. Ruffo that it would be counterproductive to incarcerate him.
I've been working with the courts for several years and in some cases have been advising the courts on treatment recommendations for those defendants with mental illness and addiction. Here's my suggestions which I hope are helpful. The courts might consider some or all of the following possibilities as part of sentencing, rather than jail time:
1. Some kind of house arrest that includes an ankle bracelet for tracking
2. Long-term continuation of treatment (at least one year) that includes a rigorous schedule of group and personal therapy and 12-step group meetings.
3. Checking in with a probation officer weekly who also checks to make sure Mr. Ruffo avoids high-risk environments (bars, clubs, etc.), and contact with high-risk peers
4. Random, weekly supervised urinalysis or saliva tests
5. Restitution that can be a combination of monetary restitution and working with addicts, perhaps even speaking in schools where gangs and drugs are prevalent.
Even if all of these options were used, the cost to taxpayers will be far less than incarceration.
For the full article go here:
http://blogs.psychcentral.com/therapy-soup/2011/10/is-surfer-anthony-ruffo-looking-for-a-free-ride/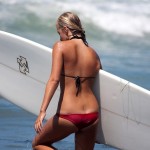 Become A Sponsor!
If you have a product or service that is a good fit for our surf community, we have opportunities for you to sponsor this blog!
Download our media kit now!