VIA – HALF MOON BAY PATCH


Coastsiders to make beaches, waterways sparkle
Posted: Thursday, September 8, 2011 10:11 am | Updated: 10:25 am, Thu Sep 8, 2011.
By Stacy Trevenon [ [email protected] ] | 0 comments
On Saturday, Sept. 17, Menlo Park resident Lindsey Peterson plans to don old pants, sneakers and thick gloves. Then she will pick up a bucket and head out in search of cigarette butts, discarded candy wrappers, abandoned soda cans and who knows what else.
A two-year volunteer for Coastside Land Trust and currently the office manager, Peterson is eagerly looking forward to doing dirty work to help keep local beaches – and, for the first time this year – inland waterways clean, during the California Coastal Cleanup Day.
And she is eager to welcome the anticipated scores of fellow volunteers who will be right out there with her.
"We can do all the administration and acquisition (of open space) we want, but it is impossible to maintain those beautiful coastal areas without volunteers," she said.
In a statewide effort run by the California Coastal Commission and organized locally through each county, a plethora of agencies including Save Our Shores and the Coastside Land Trust are coordinating an effort that, last year, drew more than 4,200 volunteers who removed more than 42,000 pounds of trash and recyclables that threatened to soil the county and endanger wildlife.
The same collective effort is underway this year.
"We're all working toward the same goal, all coming together at the same time on the same day and cleaning up our coastal areas," Peterson said.
While a number of Coastside state beaches are scheduled for cleaning (see sidebar) this year the effort is expanding to move inland. There are enough volunteers, said Peterson, that cleanup efforts will stretch to include Pilarcitos Creek banks in Half Moon Bay.
"This is so exciting for us," Peterson said.
She said that the land trust expects from 30 to 50 volunteers for the effort, with several score more to tackle Pilarcitos Creek.
Inland sites are vital to the cleanup effort, she explained. "Expanding into nearby watersheds is a logical step for the Coastal Cleanup Day because all the rubbish and debris that collect inland inevitably makes its way into creeks and rivers, which quickly deposit right into the ocean. In fact, 80 percent of the trash that enters the ocean comes from inland areas. Attacking the problem closer to the source makes sense."
Volunteers under the age of 18 must be accompanied by a responsible adult, she said.
While volunteers generally stay as long as they wish and the cleanup effort is set for three hours, she added that scheduling is flexible for families who take part in the cleanup. She said that typically from 10 to 20 percent of the volunteers are made up of families.
Peterson herself grew up in the Bay Area and earned her college degree in political science before finding out about the Coastside Land Trust at the 2009 Pumpkin Festival. She became a volunteer for the organization, helping with office tasks and researching vital information about various proposals under the auspices of the trust. Now she is managing the office – and helping clean up.
"Anyone who wants to come and pick up trash is very welcome to join us," she said.
She noted that in this year's cleanup effort, volunteers will weigh the trash collected and records will be kept. Items that are typically picked up during the cleanups range from food wrappers and cigarette butts, which are the most common, to more unusual items including carpets, bicycles, even mattresses – and, in one instance, a kitchen sink
For all the information and how to get involved go here:
http://www.hmbreview.com/community/coastsiders-to-make-beaches-waterways-sparkle/article_157472fe-da3e-11e0-8339-001cc4c03286.html
Locations for cleanup
El Granada:
Mirada Surf West: Clean up the bluff and Surfer's Beach. Meet on the west side of Highway 1 at the intersection of Coronado and Highway 1.
Half Moon Bay:
Pilarcitos Creek: Meet in the Odwalla parking lot at 120 Stone Pine Road.
Poplar State Beach: Located a half-mile west of Highway 1 at the end of Poplar Avenue off Highway 1, south of Half Moon Bay State Beach. Parking available in the blufftop parking lot.
Francis State Beach: From Highway 1, turn west on Kelly Avenue south of Highway 92, and park in the state beach parking lot.
Purisima Creek Redwoods Open Space Preserve: Meet at the Purisima Creek Redwoods preserve North Ridge Parking Lot, Gate PCO1. Volunteers will remove invasive, nonnative ivy along Whittemore Gulch Trail in the watershed. Age minimum: 14. Fifteen volunteers needed. Registration required at flowstobay.org/ccd.
Montara:
Montara State Beach: Meet in the northern parking lot. A cleanup crew will also be sent to Gray Whale Cove.
Pescadero:
Pescadero State Beach: Off Highway 1. Meet at the northern parking lot.
Gazos State Beach: Off Highway 1 about 20 miles south of the intersection of highways 1 and 92,near the Gazos Grill restaurant.
San Gregorio:
San Gregorio State Beach: Intersection of highways 1 and 84. Meet in the parking lot; free parking for volunteers.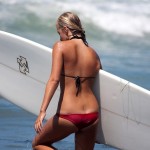 Become A Sponsor!
If you have a product or service that is a good fit for our surf community, we have opportunities for you to sponsor this blog!
Download our media kit now!