VIA – THE NATIONAL


Tony Hawk swaps his skateboard for a Corvette Stingray
Matt Majendie
Sep 9, 2011
American Tony Hawk is the greatest skateboarder of all time and gained global notoriety when, in 1999, he performed the first 900 on his board – the equivalent to two-and-a-half revolutions in the air (900 degrees).
At 43, he claims he can still perform the stunt and has gone on to become a multi-millionaire with a series of computer games, as well as film and television appearances.
Hawk admits to a love for speed, whether that be on his skateboard or at the wheel of one of his many cars in the garage of his California home.
His "day-to-day car" is a Lexus 600H – "it's the one I take the kids around in" – of which he has four from his three marriages.
But his two pride and joys are a 1963 Corvette Stingray and a 620hp 2008 Hennessey Jeep HPE600 Turbo; both a far cry from the car that he learnt to drive in: a 1977 Honda Civic.
"I love my cars and I've always been a big fan of cars," he explains. "I'm always looking at them and fantasizing about getting new ones. Growing up, the '63 Corvette was pretty much my dream car so, for a long time, the ambition was to get to a place where I could get one. It's a beautiful car and driving it is absolutely the best feeling. When I first saw it as a kid, I genuinely thought it was the Batmobile and you can see what I mean with the black outside and red interior.
"The supercharged Jeep's great too. It's quick, it can fit all the kids in as well. Okay, I might not love it quite as much as the Corvette, but it's still a great ride."
When not driving his cavalcade of cars around in the Californian sunshine, Hawk revels in watching whatever motorsport he can.
He attended his first Formula One race – the British Grand Prix – a couple of months ago and admitted to becoming infatuated with the roar of the V8 engines on the grid and the noise of the crowd, as well as the undeniable glitz and glamour.
"It was my first time in F1 and I didn't know what to expect," he says. "I must admit, I didn't know a lot about the guys driving there but someone was kind enough to invite me. I met a few of the guys and I had a good time."
He was in Abu Dhabi the past two years for the Laureus Awards and performed stunts during the V8 Supercars race weekend at Yas Marina in February.
But being an American, it's understandable that his first motorsport love is Nascar, and Hawk has been a regular at races over the years, even taking part in a celebrity Nascar event.
"Now, that was a lot of fun," he says, "and who doesn't like to go fast? It was something I've been trying to do for years and I finally got the opportunity. I did okay, I think. I got the fastest lap of all the celebrity field at Charlotte Motor Speedway and had a real good time."
"Of course, you can't help but think afterwards that you could have been a contender if you'd been a racer but I know realistically I wouldn't have got close to these F1 and Nascar guys," he says. "They're unbelievably quick and it's such a rush."
Perhaps, though, his most random motoring foray has been taking part in the Gumball Rally, in which he competed with some fellow skateboarders, as well as the Gumball 3000.
"Both were great fun," he says. "We got pulled over by the cops in the Gumball 3000 for going too fast but the cop was a good guy and said he didn't give us a ticket as we were the only guys he could actually catch.
"On another play, we headed to Salt Lake City and drove to Las Vegas and then Los Angeles in just eight days. Is there a better rush? A great trip."
For the full story go here:
http://www.thenational.ae/lifestyle/motoring/tony-hawk-swaps-his-skateboard-for-a-corvette-stingray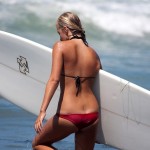 Become A Sponsor!
If you have a product or service that is a good fit for our surf community, we have opportunities for you to sponsor this blog!
Download our media kit now!