Note: dont piss off a Samoan, esp on Samoa…
VIA – Radio NZ
Cultural respect urged for foreign surfers in Samoa
Posted at 01:39 on 01 March, 2012 UTC
A surf resort owner in Samoa says the tourism industry needs to teach travelling surfers about cultural respect.
Salani Surf Resort's owner Chris Donato says in a recent incident a matai was sworn at.
He says some surfers are causing offence by parking on people's land, not wearing shirts while in villages, playing loud music and surfing on Sundays.
He says he has asked the Samoa Tourism Authority to consider bringing in a consultant to look at how to best preserve the Samoan surfing experience.
"If there's all these backpackers coming in here and they're not taught about the culture and it just starts getting overwhelming and they're able to just park anywhere and do what ever and it is what it is, you could end up in a situation where crime increases you know you get a lot of problems. And then the worst thing of all is …
MORE NOW:
http://www.rnzi.com/pages/news.php?op=read&id=66529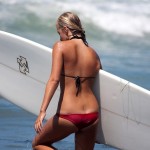 Become A Sponsor!
If you have a product or service that is a good fit for our surf community, we have opportunities for you to sponsor this blog!
Download our media kit now!