VIA – BETTOR BLOGS
Kelly Slater reaches Quarter-finals of Quiksilver Pro Gold Cost without a scratch – Surfing News
Posted By:
Jason McCarthy
Category:
Surfing News
America's Kelly Slater walked away with top honours from the second heat of Quiksilver Pro Gold Coast's Round 4 that continued at Snapper Rocks in Queensland, Australia, on Tuesday, February 28.
With the win in his Round 4 heat, the 11-time Association of Surfing Professionals (ASP) World Tour Champion secured his place in the Quarter-finals. Brazil's Heitor Alves was forced to settle for runner-up place while French Polynesia's Michel Bourez rounded out the third position. Both the surfers were forced to take a trip to Round 5 to earn their place in the Quarter-finals.
The first event of the 2012 Association of Surfing Professionals (ASP) World Title series returned to Snapper Rocks for the fourth consecutive day.
The 40-year-old Slater, who had been nothing short of spectacular throughout the 2011 season, continued to exhibit a formidable form on Tuesday. Even though the two-to-three foot waves made it hard for the surfers to get hold of a big score, the iconic American surfer managed to adapt to the conditions by changing his surfboard during the heat, going for a shorter board instead of a relatively longer one.
Slater collected a 6.83 off his first business-wave to take an early lead and put his rivals Alves and Bourez under pressure. As the heat progressed, the Florida-based surfer realised that his current board was not optimal for the short waves. The switch to a shorter board worked well for him and allowed him to pull off a series of manoeuvres on it to post a 7.17 on the score-board, finishing with a heat-total of 14.00 points…
MORE!!!: http://blogs.bettor.com/Kelly-Slater-reaches-Quarter-finals-of-Quiksilver-Pro-Gold-Cost-without-a-scratch-Surfing-News-a132812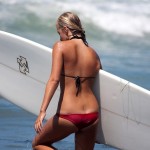 Become A Sponsor!
If you have a product or service that is a good fit for our surf community, we have opportunities for you to sponsor this blog!
Download our media kit now!