VIA – DAILY MAIL
What a fit pair! Dennis Quaid, 57, displays his six-pack while wife Kimberly shows off her toned figure as pair surf in Hawaii
By Sarah Bull
Last updated at 3:09 PM on 23rd October 2011
She might be 40 years old, but Dennis Quaid's wife Kimberly has a body most teenagers would be proud of.
The blonde beauty showed off her taut figure in a mismatched bikini as she hit the surf with husband Dennis while the pair went paddleboarding in Maui, Hawaii.
And Quaid, 57, also looked in great shape, displaying an impressive six-pack in a pair of black swimming shorts as he showed off his skills on the board.
What a fit pair! Dennis Quaid and his wife Kimberly showed off her toned figures as they hit the surf in Hawaii
The Footloose actor admitted recently that he is so keen on surfing and paddleboarding that he wants to purchase a new home in Hawaii.
Putting his Montana ranch up for sale earlier this week, he said: 'I want a place where I can focus on the new love of my life, which is surfing.'
It was during the filming of movie Soul Surfer, which tells the story of shark attack victim Bethany Hamilton, that Quaid first realised his love of the watersport.
Taut: Quaid became a huge fan of surfing after starring in movie Soul Surfer, while Kimberly also looked more than capable on the board
Asked how he stays in such great shape during an interview earlier this year, Quaid said: 'First, there is only one reason I look like this these days: total vanity. The other thing is surfing is a great workout – except all that paddling is exhausting.
'During my month and a half of training before we started filming, it got to the point where they could film me for four or five seconds without me looking like a total fool.'
Quaid also credits his three-year-old twins Thomas and Zoe for helping him stay in shape.
For the full article and more photos, go here:
http://www.dailymail.co.uk/tvshowbiz/article-2052439/Dennis-Quaid-wife-Kimberly-toned-figures-Hawaii.html?ito=feeds-newsxml

For more celebrity surfing and suping articles and photos go here:
http://surftweeters.com/category/celebrity-gossip/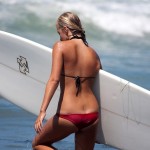 Become A Sponsor!
If you have a product or service that is a good fit for our surf community, we have opportunities for you to sponsor this blog!
Download our media kit now!