VIA – VENICE PATCH
Generations of Skate at Venice Beach
Tony Hawk leads a multi-generational skateboard competition at Venice Beach.
By Paul Chavez
October 22, 2011


Skating legend Tony Hawk congratulates his third-generation teammate Mitchie Brusco during the Sonic Generations of Skate competition held Saturday, Oct. 22, 2011, at Venice Beach. Credit Paul Chavez
Skateboarding legend Tony Hawk lead a multi-generational skateboard competition Saturday in Venice Beach.
A halfpipe was set up on the basketball courts and a thick crowded that extended to the boardwalk watched aerial feats all day as part of the Sonic Generations of Skate.
The team competition gave a nod to the history of the sport in Southern California with each team comprised of a 40-something skater, a 30-something skater and a teen/20-something skater.
The first generation team included the 43-year-old Hawk, who is retired but still participates in special events. Hawk is best known for being the first skater (in 1999) to land a 900 in competition – a 2 1/2 turn that is one of the most challenging in the sport. Hawk, a 12-time world champion, also spawned a video game in 1999 that now has 16 titles.
Other first generation team members were Steve Caballero, Sergei Ventura and Kevin Staab. Second generations skaters were Pierre-Luc Gagnon, Andy Macdonald, Sandro Dias and Lincoln Ueda. Third generation skaters were Mitchie Brusco, Adam Taylor, Elliot Sloan and Paul-Luc Ronchetti.
For the full story go here:
http://venice.patch.com/articles/generations-of-skate-at-venice-beach#photo-8207007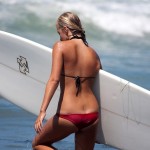 Become A Sponsor!
If you have a product or service that is a good fit for our surf community, we have opportunities for you to sponsor this blog!
Download our media kit now!