VIA – MAUI NOW
Marc Riglos, photo courtesy Hawaii News Now, credit Kari Rodrigues.
November 8th, 2012
By Wendy Osher
A donation account has been established for a Maui man injured in a shark attack during the Roi Roundup spearfishing tournament on Sunday.
Tournament committee organizers established the donation fund for diver, Marc Riglos.
The fund at the Bank of Hawai'i will remain open for 180 days for anyone who wants to contribute to his recovery.
Nearly $1,000 in proceeds from Roi Round-up logo item sales and donations at the weekend event will also be given to Riglos to help cover his medical expenses.
Riglos was seriously injured in a surprise encounter, sustaining a severe laceration to his right leg, just above the ankle.
Tournament officials say Riglos has already undergone surgery with initial success, and is being transferred to O'ahu for further treatment.
The Maui Roi Round-up was initiated as a grassroots effort by local divers in 2008 due to concerns about introduced invasive fish that were posing a threat to coral reefs and the endemic marine life they support.
The tournaments gather together local divers who want to help remove roi, to'au, and ta'ape – all three species were introduced to Hawaiian waters in the 1950s, but became invasive over time with no viable market for buying or selling them, and a fear of ciguatera poisoning associated with roi consumption.
Sunday's event was the eighth tournament in five years that was hosted by the Maui Roi Round-up committee.
Those interested in making a donation to the new fund, may do so by walking in to any Bank of Hawai'i branch in the state and making a deposit to the Marc Riglos Fund. Donations may also be mailed in to this account at Bank of Hawai'i, 27 South Pu'un?n? Avenue, Kahului, Hawai'i, 96732.
"Over the past five years, Roi Round-up and its divers have become a close knit group, we dive for a good cause and…"
For the full article go here:
http://mauinow.com/2012/11/08/donation-fund-established-for-maui-shark-bite-victim/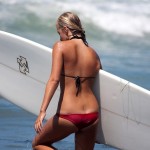 Become A Sponsor!
If you have a product or service that is a good fit for our surf community, we have opportunities for you to sponsor this blog!
Download our media kit now!