VIA – SANTA CRUZ SENTINEL
Dorian a big winner at inaugural Maverick's Festival
(Raphael Solomon/Special to the Sentinel)
Posted:   04/01/2012 01:30:55 AM PDT
HALF MOON BAY — The chances of Shane Dorian receiving an invitation to compete in next year's Maverick's Invitational shot through the roof Saturday.
The Hawaiian charger picked up three awards during the inaugural Maverick's Festival, which served as the closing ceremony for a big wave surf season that, for the second straight year, didn't feature a Maverick's contest. The awards — seven in all — recognized the daring that goes on at the treacherous reef break behind the contest curtain.
Dorian by far won the most honors, taking "Barrel of the Year," "Bomb of the Year" and "Performance of the Year."
"This is a guy who came in here and was a man on a mission and just upped the bar for everybody," said Jeff Clark, a Maverick's Invitational organizer and a pioneer of the surf break. "He set a new bar."
A standout on the Association of Surfing Professionals' World Tour, Dorian first surfed Maverick's in 2010 but has never competed in the contest. He was added to the list of 24 invitees in 2010-11. When that season passed without a contest, he and the rest of the invitees were automatically held over for 2011-12. Saturday officially marked the end of that season, which also saw no contestable days. If organizers decide not to hold over the pool for next season, Dorian made sure they'll remember he was here.
"We talked about spreading [the awards] around more," said Grant Washburn, a regular Mav's contestant and an awards judge with contestant
Matt Ambrose, contest judge Dick Keating, journalist Bruce Jenkins and Clark. "But I don't think there are too many people with credibility that would dispute what he did out there."
Santa Cruz invitee and Mav's regular Zach Wormhoudt agreed. "He earned what he got," he said of Dorian.
While no day proved big and consistent enough to warrant green-lighting the contest, several Maverick's regulars got in as many as 10-15 sessions this season. Still, most of the award-winning rides came from just two swells, on Jan. 4-5 and Feb. 8-9.
Savannah Shaughnessy of Scotts Valley won the "Women's Performance of the Year" award based mostly on the prowess she exhibited during that early February window.
"I surfed five days at Maverick's, and that was the only clean day," she said. "But it made all the other days of having to work and not getting many good waves worth it."
Santa Cruz's Ken "Skindog" Collins won the "Photo of the Year" award with Half Moon Bay photographer Frank Quirarte…
For the full article go here:
http://www.santacruzsentinel.com/sports/ci_20301705/dorian-big-winner-at-inaugural-mavericks-festival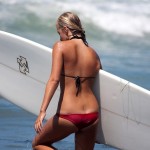 Become A Sponsor!
If you have a product or service that is a good fit for our surf community, we have opportunities for you to sponsor this blog!
Download our media kit now!