VIA – GEELONG ADVERTISER
Bells Beach surfers square off with council
Andrea Hamblin   |  April 2nd, 2012
MEMBERS of Torquay's surfing community have stepped up their fight to keep Bells Beach a surfing sanctuary, calling for collaboration not just consultation at a Surf Coast Shire Council meeting.
The move comes after the council last week voted against a motion to halt plans for a bus bay for tourism operators at Bells Beach.
bout 20 surfers attended the meeting where Cr Ron Humphrey told the public forum community members felt their voices had not been properly heard.
Cheers and applause filled Connewarre Hall as Cr Humphrey put forward a motion to halt plans for a bus bay for tourism operators at Bells Beach, calling for the council to go back to the community before moving forward with further plans and involving the State Government. The mood turned to despair after the council vote.
Mayor Brian McKiterick told the Geelong Advertiser that community consultation had already been "significant".
"The council is aware that there needs to be a balance between the uses of the surfing community, recreational visitors, and international tourists and I believe the council saw that stagnating any progress in the procedure for six months was not going to achieve anything," Cr McKiterick said.
The council's Coastal Management Plan would be handed to State Environment Minister Ryan Smith and more consultation would occur after that, he said.
Cr McKiterick said the current plans to extend the carpark at Bells Beach were an interim measure, and there were no plans for a "tourist hub"at the beach .
"The long-term vision is to manage coaches and buses via the Surf World experience and then (for visitors) to move to Bells Beach through a smaller, less intrusive transporting system," he said.
Surfrider Foundation president Richard Bennett said the building of additional carparks went against the community's wishes for environmental preservation.
"Bells Reserve is the Uluru of the Australian surfing coastline and so its pristine environment and rich indigenous and surfing heritage must be preserved," Mr Bennett said.
"We now have over 2000 people from…"
For the full article go here:
http://www.geelongadvertiser.com.au/article/2012/04/02/317291_news.html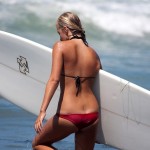 Become A Sponsor!
If you have a product or service that is a good fit for our surf community, we have opportunities for you to sponsor this blog!
Download our media kit now!