VIA – CF NEWS


Dozens of surfers 'paddle out' for surfing teacher
NEW SMYRNA BEACH —
Friends, family and former students gathered to pay tribute to the teacher and surfer who died last month.
Surfers remembered Frederick "Fico" Fernandez, 55, an experienced surfer who went out to ride large waves triggered by the passing of Hurricane Irene August 27.
Well wishers participated in what's called a paddle out. One childhood friend who knew the surfer-teacher since they were in third grade surfed all day honoring his friend.
"I think about him a lot because we spent alot of hours in the water together," said Joseph Massa. "No fear Fico, no fear."
For the full story go here:
http://www.cfnews13.com/article/news/2011/september/306252/Dozens-of-surfers-paddle-out-for-surfing-teacher
VIA – MY FOX ORLANDO
Surfer Memorial
Updated: Sunday, 04 Sep 2011, 10:13 PM EDT
Published : Sunday, 04 Sep 2011, 10:13 PM EDT
Surfer Memorial : MyFoxORLANDO.com
By Valerie Boey
FOX 35 News
New Smyrna Beach, Florida- With surf boards in hand, friends, relatives and students of Frederick Fernandez paddle out to the place where he died last week. Hannah May was one of his students who took part in this serene memorial, "I asked if we could have a paddle out with him, I got with the Safari Club and we arranged to have a paddle out. The whole school's here for him."
It was just one week ago, when the 55 year old, known as Fico, died after riding the wild waves. Fico's longtime friend John Priest had talked to him before he went out, "He had said he was real excited about this hurricane with the waves and that was his life. He tragically ended his life the way he lived." A wreath was laid by the water and his ashes were thrown into the sea. As the surf splashes, it helps each of them feel closer to the man who enjoyed life to the fullest, especially Hannah, "He was not only a teacher but also a father figure. I
For the full story go here:
http://www.myfoxorlando.com/dpp/news/local/090411-Surfer-Memorial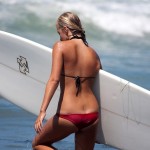 Become A Sponsor!
If you have a product or service that is a good fit for our surf community, we have opportunities for you to sponsor this blog!
Download our media kit now!