VIA – TICO TIMES
Earthquake shakes Costa Rica's Pacific coast
Posted: Wednesday, November 02, 2011 – By Alex Leff
No injuries were reported from the magnitude-5.4 tremor.
A 5.4 tremor shook the Nicoya Peninsula at 1:01 p.m. on Wednesday. Residents of the northwest Costa Rica tourist haven reported cracking walls but little other damage. The National Emergency Commission and National Police said no physical injuries were reported.
"A few products in the personal care section fell on the floor but it wasn't too bad," said Daniel Bonilla, store manager at Supermercado Ronny's in the surfer town of Santa Teresa.
"All the customers got scared and left the store, especially the tourists," he said.
A local resident observed cracks in the walls of his home in the inland town of Cóbano, according to Juan Segura, director of the Volcanological and Seismological Observatory of Costa Rica (Ovsicori).
The observatory gauged at least four smaller tremors of less than magnitude 4 striking the same spot within 30 minutes of the 5.4 earthquake.
Marino Protti, an Ovsicori earthquake expert, told The Tico Times the epicenter was at the entrance of the Gulf of Nicoya – the same shaky spot that sparked the powerful 7.0 earthquake in 1990 that killed one person in the area.
The fault also caused a 7.3 earthquake in 1939 that killed two people all the way in the Central Valley region in the country's interior, according to Ovsicori's website…
For the full story go here:
http://www.ticotimes.net/Current-Edition/News-Briefs/Earthquake-shakes-Costa-Rica-s-Pacific-coast_Wednesday-November-02-2011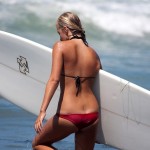 Become A Sponsor!
If you have a product or service that is a good fit for our surf community, we have opportunities for you to sponsor this blog!
Download our media kit now!