Damn we love Dane!
VIA – ROLLING STONE
Surfer Dane Reynolds Hates Competition – But Blows it Out of the Water
'I don't put too much importance on winning contests, which I think can make surfing boring,' he says in our Hot Issue
By Jesse Hyde
November 3, 2011 2:45 PM ET


Dave Reynolds for Quicksilver
Dustin Miller
The rap on Dane Reynolds is that he could be the best surfer in the world, if he only gave a shit. Problem is Reynolds sees no point trying to cram the artistry of surfing into the rigid confines of competition. When he first burst onto the scene as a 17-year-old, he called out Kelly Slater, the Michael Jordan of the sport, for his "ugly airs" and suggested that the only reason Slater won every competition was because judges didn't know what they were doing.
These days Slater and Reynolds have made up (Slater has called Reynolds the best surfer in the world), but Reynolds still feels the same way about competition, which may explain why he has skipped every tour event but one this year, including one in Portugal last month. When footage surfaced of Reynolds surfing in Mexico with friends, after dropping out of a tour stop in South Africa because of sore ribs, a minor controversy erupted in the surf world, with the sport's sanctioning body threatening to ban Reynolds from future events.
"When I was about 19 and started thinking for myself, I was like, 'Oh fuck, I don't really see the importance of being a world champion. It's just a title, it's just a trophy," Reynolds says. Reynolds, 26, is more interested in pushing the boundaries of the sport, which competitions discourage because falls are penalized. He spends as much time in the air as he does in the water while surfing, and his aggressive, almost violent style in attacking waves have earned him the praise of fellow pros, who call him the most exciting free surfer in the world. At most tour events the biggest story isn't who wins, but whether Reynolds shows up, and what he might do once he's in the water.


Dane Reynolds back in 2010 surfing at the Billabong Pro on August 30th
Kirstin Scholtz/ASP via Getty Images
Quiet and almost painfully self aware, Reynolds shies away from most interviews, preferring to spend his time away from surfing in the study of his bungalow in Ventura, where he lives with his girlfriend, and their a pet falcon. He reads philosophy and writers like Charles Bukowski. There's a map on the wall covered with polaroids from surf trips to Morocco and France, a drum kit and piano that Reynolds likes to experiment on, and a pink couch his neighbors gave him. Much of the inspiration that Reynolds finds here ends up on his blog, where he posts self-made surf videos, experimental art and hand-drawn T-shirts he sells for charity.
As for whether he'll ever live up to his potential and win a world championship, Reynolds isn't sure. He was fined $25,000 for pulling out of a Portugal tour event in October for unspecified "personal reasons," leading some to wonder if he's quit competing for good…
For the full article go here:
http://www.rollingstone.com/culture/news/surfer-dane-reynolds-hates-competition-but-blows-it-out-of-the-water-20111103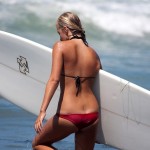 Become A Sponsor!
If you have a product or service that is a good fit for our surf community, we have opportunities for you to sponsor this blog!
Download our media kit now!