VIA – HONOLULU CIVIL BEAT
Legendary Surfer's Family Fights Movie Company
HONOLULU (CN) – The family of the late, legendary surfer Eddie Aikau asked a state judge to stop a movie company from claiming the right to make a movie about his life.
Edward Ryon Makuahanai Aikau (1946-1978), a Maui-born big wave surfer, was lost at sea before his 32nd birthday, trying to save fellow crew members with his longboard when a Polynesian voyaging canoe capsized in stormy weather off the Big Island.
He was the first lifeguard at Waimea Bay, on Oahu's North Shore, where an exclusive surfing
competition, "The Quicksilver In Memory of Eddie Aikau" is held in his name. "The Eddie" is …
For the full article go here:
http://sports.sections.civilbeat.com/post/20541837290/legendary-surfers-family-fights-movie-company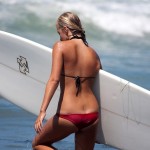 Become A Sponsor!
If you have a product or service that is a good fit for our surf community, we have opportunities for you to sponsor this blog!
Download our media kit now!