VIA – OC REGISTER
O.C. surfer testifies in Bali bombing trial
Published: April 5, 2012 Updated: 5:23 p.m.
By / THE ORANGE COUNTY REGISTER
It was a decade ago when a bomb blasted through nightclubs in Bali, sending shock through the surfing community as news hit in O.C. that among the 202 dead in the terrorist act was Newport Beach surfer Steve Webster.
Today, a trial started in Jakarta where Webster's friend and bombing survivor Steve Cabler recounted the events of that dreadful day. Ghetto Juice Magazine co-publisher Skip Snead – who is a close friend of Cabler and is following the trial – gave us this recap:
An American surfer and three other Australian survivors of the 2002 Bali bombings flew to Jakarta and testified Thursday in the trial of accused terrorist Umar Patek… the 45-year-old militant who is suspected of building the car bomb used in the terrorist attack that left more than 200 people dead, including 88 Aussies and seven Americans, including Orange County surfer Steve Webster.
Californian musician and surfer Steve Cabler described for the Jakarta court what he saw in the bombings that destroyed both the Paddy and Sari Club nightclubs just after 11 p.m. Oct. 12, 2002.
"I heard some yelling on the street that caught my attention and I could see some people running,"Cabler said of the first blast across the street at Paddy's. A second blast then destroyed the Sari Club where Cabler and his two friends were, and "burned the retinas of my eyes."
Cabler also spoke of trying to save his best friend Steve Webster who was trapped under a roof after it had collapsed in the second blast. "He was screaming underneath the roof," Cabler told the court. "I tried to pull him out but it was too hard because there was too much fire." Cabler went on…."I have brain damage, traumatic brain injury. I can't remember a lot of things…."
"When the explosion happened, it was big, it was massive," he continued, "and I hit my head very hard against my friend's head… and (it) exploded my eardrums." Cabler was also badly burned, broke his shoulder and lost most of the hearing in his left ear in the attack.
The American surfer also described images of tragedy and outright devastation in his testimony giving prosecutors that much more ammo in their case against Patek, the last remaining suspect who is being charged with 202 counts of murder, bomb-making and possessing illegal weapons. Patek has been linked to Al Qaida and was arrested last year in Pakistan. He faces death by firing squad if convicted, and prosecutors used the testimonies of the survivors to support their cause.
– Skip Snead
In 2008, I did a story about Webster after three men were executed by firing squad for the killings. Webster was a well-known surfer who could most frequently be found at the jetties. He was also an avid golfer and fisherman who worked hard so he could play hard…
For all the info go here:

http://www.ocregister.com/articles/webster-347968-bali-steve.html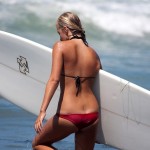 Become A Sponsor!
If you have a product or service that is a good fit for our surf community, we have opportunities for you to sponsor this blog!
Download our media kit now!