VIA – ECR.CO.ZA
Newswatch
Family devastated by surfer's death
01 August 2011 – 15:05
Author: Thrishni Subramoney
The family of a 20-year-old surfer, who was killed in an accident at Durban North on Saturday, has welcomed a police probe into the incident.
Michael Livesey was hit by a car on Chelsea Road as he was skateboarding home from the beach.
Emergency services say he, along with the surfboard he was carrying, appeared to have been flung 20 meters on impact.
Michael died on scene.
Family spokesperson, Dean Macpherson, says funeral arrangements for the young freelance photographer are still being finalised as relatives and friends are flying in from all over the world to say their last goodbyes.
"He was an avid surfer, and lived life to the absolute full," said Macpherson.
For the full story go here:
http://www.ecr.co.za/kagiso/content/en/east-coast-radio/east-coast-radio-mobile-news?oid=1309205&sn=Mobile+news+detail&pid=171901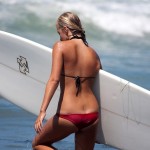 Become A Sponsor!
If you have a product or service that is a good fit for our surf community, we have opportunities for you to sponsor this blog!
Download our media kit now!