VIA – MONTEREY HERALD

Photographer Clark Little takes pictures of a three-story tall… (CONTRIBUTED BY SANDY LITTLE)
Break of a lifetime: Surfer Clark Little finds his calling, and notoriety, through the camera's lens
By KATHRYN McKENZIE
Herald Correspondent
Posted: 08/01/2011 08:47:01 AM PDT
Updated: 08/01/2011 08:48:42 AM PDT
Sometimes, getting crystal-clear photographs of rushing water and breaking waves isn't the hard part for Clark Little. It's the little hazards of the job that bother him more than the dangers that may lurk in the oceans.
Say, for instance, the sunburns.
"I forgot to put on sunscreen and my lip is just fried," Little said in a recent phone interview from his home on the north shore of Oahu. "I didn't think I was going to be out that long, but the waves were good, and I was out there for three hours."
Aside from these kinds of minor problems, it's been smooth sailing for Little, whose love of the ocean and deep knowledge of shorebreaks from his surfing experience has benefited his meteoric career.
He only began taking photos a little more than four-and-a-half years ago, but in that short amount of time, he's become a photographic celebrity.
"Clark is now considered the Ansel Adams of wave photography," said Jonathan Mountainsong, owner of Mountainsong Galleries in Carmel, which will host a reception and book signing for Little on Aug. 6 that is by reservation only.
Little, who mostly photographs in the waters off Hawaii, did shoot some in Carmel when he visited last year. Three of these images will be seen among the others in the gallery's permanent exhibit of his work.
Two of Little's award-winning images are now on view at the Smithsonian National Museum of Natural History in Washington D.C. through September.
In addition to capturing the singular look of the Hawaiian waters — renowned for their wonderful transparency and clarity — Little also takes his shots from a unique perspective. An experienced surfer, he shoots the waves from the inside, right at the shorebreak.
Little captures the waves in all their moods — curling, foaming, shaking off droplets — as well as sights beneath the water, like his award-winning photos of endangered Hawaiian green sea turtles, called honu by the natives. One of Little's most celebrated images is "Flying Honu," with a turtle making its way through an almost surreal green-tinged waterscape.
However, Little's path to his present career started in a very modest way. In 2007, his wife asked him to take pictures of some waves, which she wanted to hang in their bedroom. He was not a photographer, but had long been a surfer, and knew right away he wanted to capture waves at the shorebreak.
For the full story and more photos go here:
http://www.montereyherald.com/entertainment/ci_18593931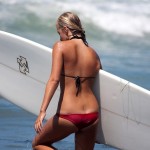 Become A Sponsor!
If you have a product or service that is a good fit for our surf community, we have opportunities for you to sponsor this blog!
Download our media kit now!