VIA – OCEAN BEACH BULLETIN
Feds block Jet Skis at Ocean Beach surfing contest
Posted by Tom Prete on 9/15/11
Surfers in the Rip Curl Pro Search surfing contest scheduled for Ocean Beach in November will have to paddle out and catch waves just like the Kelly's Cove locals, as the National Park Service has decided to prohibit all personal watercraft except for those used by lifeguards at the event.
Golden Gate National Recreation Area Superintendent Frank Dean made the decision within the past two weeks, reversing an earlier understanding between the park and contest organizers, and on Monday sent organizers a letter explaining the decision. The GGGNRA is the part of the National Park Service that manages Ocean Beach and other nearby federal park lands.
The Ocean Beach Bulletin obtained a copy of the letter Dean sent to Rip Curl international events manager Brooke Farris.
"While we commend your approach to go beyond rescue operations and actively protect athletes from potential hazards, ultimately we believe that towing out contestants is more of a convenience that allows a quicker pace to the competition than a true life/safety measure," the letter reads.
"We realize this is a substantial change from our understandings to date, and sincerely apologize for the logistical difficulty this places on Rip Curl and those working for you."
"[Organizers] requested the use of PWCs … in case the waves are over 10 feet high, they asked permission to tow the surfers out," said GGNRA spokesman George Durgerian.
"The Park Service considered that, and was favorably leaning toward it," Durgerian said, but in the end the agency decided against the request "because we don't want to sent a prcedent that could be used by other athletic events in the park."
"We acknowledge this is gong to be a challenge for them," Durgerian said.
The use of personal watercraft to assist surfing has become controversial, with their use conflicting with bans on PWCs — popularly known under the Jet Ski brand — in place in many areas to protect wildlife.
At San Mateo County's famous Mavericks surf spot, where a yearly contest and huge waves attract competitors from around the world, surfer Sion Milosky died in March and Jacob Trette nearly drowned in January. Some have credited a photographer who was illegally operating a PWC in the area with saving Trette's life, and suggest that the craft should be allowed under some circumstances as a safety measure.
Durgerian said that the decision against allowing personal watercraft doesn't mean the GGNRA opposes the contest, which is scheduled for Nov. 1-11.
"I should also say that Rip Curl has been a great partner to date," he said. "We're welcoming the contest."
Durgerian also noted that there are no special restrictions on boats at Ocean Beach, and the contest could use inflatable Zodiac boats or other boats.
For the full article go here:
http://oceanbeachbulletin.com/2011/09/15/feds-block-jet-skis-at-ocean-beach-surfing-contest/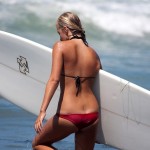 Become A Sponsor!
If you have a product or service that is a good fit for our surf community, we have opportunities for you to sponsor this blog!
Download our media kit now!