They had me at 'spokesmodel'…
VIA – PNJ
Spokesmodel to launch surboard line in Pensacola
12:31 PM, Sep. 16, 2011
Surfer, model and designer Dawn Gaines-Taylor will launch her own surfboard collection tonight at Seville Quarter.
Gaines-Taylor is the spokesmodel for the women's line of RuSik, a California-based skate and surf clothier. She started her own company, Lovechild Custom Design Surfboards to custom fit boards for women.
Boards designed by Gaines-Taylor will be hand-shaped by Hank Warner Custom Surfboards in San Diego, Calif., or Tom Stack of Pensacola-based One Love Surf Collective.
RuSik will sell the boards on RuSik.net and Gaines-Taylor hopes the boards eventually will be sold in stores.
The event at Seville is 8 to 11 p.m. inside Apple Annie's at Seville, 130 E. Government St.
For the original article go here:
http://www.pnj.com/article/20110916/NEWS01/110916014/Spokesmodel-launch-surfboard-line-Pensacola?odyssey=mod|newswell|text|FRONTPAGE|s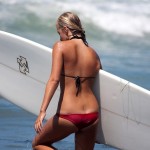 Become A Sponsor!
If you have a product or service that is a good fit for our surf community, we have opportunities for you to sponsor this blog!
Download our media kit now!