VIA – KLIV
Festival planned for Mavericks Surf Contest
HALF MOON BAY — Fans of the Mavericks Surf Contest will find a big party going on in Half Moon Bay while surfers take on the largest waves in the Bay Area. The contest organizers have decided to hold a festival on the day that the competition takes place.
The festival will begin at 8am and run until sunset in the parking lot of the Oceano Hotel and Spa. It's taking place as the beach and bluffs were declared off-limits to the general public after injuries occurred from the cliffs to giving way to crowds a few years ago.
12,000 people will be able to attend the event. And if the weather conditions don't produce the big waves this year, the festival will still go on during the last possible day for the contest, March 31st.
For the original post go here:
http://kliv.com/Festival-planned-for-Mavericks-Surf-Contest/12009900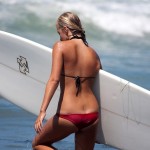 Become A Sponsor!
If you have a product or service that is a good fit for our surf community, we have opportunities for you to sponsor this blog!
Download our media kit now!