VIA – SKY NEWS
Shark Kills Man Swimming In Shallow Water


Rescuers pull Lungisani Msungubana from the water after the shark attack
5:46pm UK, Monday January 16, 2012
A South African man has been killed by a shark while swimming in waist-deep water at one of the world's deadliest spots for attacks.
Lungisani Msungubana, 25, from the Transkei region, was bathing among a crowd of swimmers on Sunday at Second Beach in the rural Eastern Cape when the attack took place.
"I saw the fin of the shark and as I told people to get out of the water I heard him scream and within seconds the water had turned red," witness Ncedolwethu Mphohliwe told the Daily Dispatch.

A rescuer reaches Mr Msungubana in the shallow water
"He had a surfboard with him and he used it to wrestle off the shark. Lifeguards started blowing their whistles, but by that time there was blood everywhere," he said.
"I have never seen so much blood in my life. I am not sure if I will ever be able to swim there again."
Mr Msungubana suffered "multiple traumatic lacerations to his torso, arms and legs" where the shark's teeth tore in to him, said John Costello, local station commander for the National Sea Rescue Institute.
Harrowing images showed Mr Msungubana being pulled from the water by rescuers. A doctor at the beach battled to save him until paramedics arrived.

Lifeguards and a doctor battled to save the man before paramedics arrived
"At the clinic medical staff declared the man dead after all efforts to save him had been exhausted," said Mr Costello.
The scenic beach in the forest-fringed town of Port St Johns is among the world's deadliest for shark attacks. It has seen six fatalities…
For the full story go here:
http://news.sky.com/home/world-news/article/16150308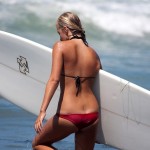 Become A Sponsor!
If you have a product or service that is a good fit for our surf community, we have opportunities for you to sponsor this blog!
Download our media kit now!