VIA – THE CHRONICLE HERALD CANADA

Photo: Chris Del Moro rides the waves in Mikey DeTemple's film Sight/Sound, screening on Thursday at 8:30 p.m. at Park Lane Theatre in Hali­fax. Thursday is the opening night of the Canadian Surf Film Festival, featuring movies, parties and an art show. The second annual event runs till Sunday.
Film catching waves
Mikey DeTemple's Sight/Sound rides popular crest at upcoming festival
By ANDREA NEMETZ Entertainment Reporter
Tue, Sep 27 – 4:54 AM
HE'D RIDDEN WAVES around the world, but pro surfer Mikey DeTemple had never been to Nova Scotia until he came here to film footage for his 45-minute movie Sight/Sound.
"I've always wanted to come to Nova Scotia. I've been planning to come for the last eight years or so," DeTemple says by phone from his native New York state.
"I knew Dean (Petty) was living in Halifax and he told me I'd love it. I put the trip together four days before it happened."
Petty, a native of Maine who moved to Halifax about five years ago, is one of 12 surfers, including DeTemple, featured in the movie, which is screening at the Canadian Surf Film Festival on Thursday at 8:30 p.m. at Park Lane Theatre in Halifax.
It's the second year for the festival, which runs to Sunday with a program of screenings, music and art.
And DeTemple, 28, is thrilled that Sight/Sound will get its Canadian premiere in Halifax.
"The Canadian Surf Film Festival is an awesome grassroots event," he says. "It's fantastic that there's a festival there and it's especially great that local filmmakers — like my friend Nico Manos — are submitting shorts."
The movie was filmed on location in Central America, New York, the Bahamas, Baja (Mexico) and Maine as well as in Lawrencetown and the Cow Bay area, where he shot in April snow.
While Mexico provided DeTemple's favourite surfing, with fantastic waves that were unexpected for the time of year he visited, Nova Scotia was his favourite place to film.
"There's so much beauty, so much backdrops to the waves, so much to look at while you're on the water," he says.
DeTemple has been surfing professionally for 15 years but only making films for four.
He grew up on Long Island, N.Y., with two surfing parents, and every family vacation involved waves, including trips to Puerto Rico, Costa Rica and Hawaii.
"I actually hated the water until I was about 12," he recalls. "I loved to play in the sand, hang out on the beach. All I wanted to do was build sandcastles. And then one day I took the board out and got hooked.
"Now I couldn't imagine not doing it, there would be a great void in my life. I love the peacefulness, cleaning your mind of anything else, being as close to nature as you can possibly be."
DeTemple entered his first surfing contest at age 13. At 15, he won his first pro competition, made some money, and things snowballed from there.
"Through high school, I looked at college and moving to California but I had a good opportunity, so thought, why not try? And things just kept getting better."
While DeTemple's been an East Coast Surfing Champion multiple times, what really excites him is the reaction he gets to the two films he's made — 2009's Picaresque and 2011's Sight/Sound.
"When someone sees the film and tells me, 'It makes me want to go surfing,' when they ask, 'Where's that wave?' when someone who hasn't surfed in a while sees it and it makes them want to go out again, it's awesome. It's awesome to make people happy."
When making the movie, which also stars surfers Chris Del Moro, Kassia Meador, Alek Parker, Jared Mell and Ryan Burch, DeTemple thought about putting together a well-rounded film with places everyone could relate to and spots almost no one could relate to.
"It goes from the tropics surfing in shorts with white sand beaches and palm trees to Nova Scotia with snow and the thickest wetsuits one could possibly wear."
DeTemple is a self-described music snob, and the film features work by White Denim, Tanlines, Blood Orange, Com Truise, Crystal Stilts, Footprintz, Lower Dens and Bodies of Water.
"I'm always listening to new music and I pick what I'm really into at the time," he says.
There's no narration or titles in Sight/Sound and no locations are identified — DeTemple wants the shots to tell the story.
"You see the land, you'll have some establishing shots," he says. "You see where they (the surfers) are and what they're doing. I keep it artistic. Talking about something breaks the beauty of the scene, the even flow. I also try not to have too much surfing or too much b-roll. It's a fine balance."
DeTemple says he worked on the film over two years, juggling it with surfing competitions and obligations for his sponsors, which include Ron Jon Surf Shop, Hurley clothing, Christenson surfboards and Nixon watches. Sight/Sound debuted in June at a launch party for a line of sunglasses from film sponsor Tommy Hilfiger.
"It was pretty amazing. It was projected on a 20- by 50-foot screen on the side of a building and it contrasted with the New York City skyline. Everyone seemed to love it."
For the full article go here:
http://thechronicleherald.ca/ArtsLife/1265251.html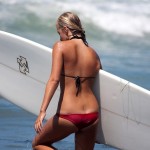 Become A Sponsor!
If you have a product or service that is a good fit for our surf community, we have opportunities for you to sponsor this blog!
Download our media kit now!