VIA – ESPN
Undaunted: The Nathan Fletcher Interview
By Jake Howard with Tom Servais
Sep 28
01:58
PM ET


Tom ServaisWhen – you grow up surfing a wave like Pipeline, it pretty much prepares you for anything.
Nathan Fletcher is the guy that stays in the water after dark. He paddles out when it's windy and three-foot at State Park or when it's 25-foot and freezing in Half Moon Bay. He comes from one of the most renowned families in surfing. His grandfather helped pioneer both the North Shore and the surf industry. His father, Herbie, is a renowned longboarder and was a test pilot in Hawaii in the 1970s. His brother, Christian, a groundbreaking aerialist in the '90s.
He admits to keeping an address in Orange County, but confides that "mentally he doesn't live in Southern California." He winters on the North Shore, makes strikes to Maverick's when duty calls, and as of late has added Fiji and Tahiti to his portfolio. Before Teahupoo roared in August most were calling his wave at Tavarua's Cloudbreak in July the "Ride of the Year." Of course, that was before he freaked everybody out with his Teahupoo beast and established a new standard for craziness. But talking to him he somehow makes it all sound relatively normal, like he's just going surfing, like it's all standard operating procedure. But don't believe him for a second, his humbleness belies his accomplishments, especially this year.
Lets start with Tahiti?
Tahiti was incredible. I got there during the contest, there was a swell and I went straight out there — got cleaned up by a closeout right away because I was paddling in the channel, then Biff [D'Esposito] came around and got me. He was the first one to tow me in. He was on this old ski and he whipped me in, but about 100 yards too deep. So that first wave I pulled into it was a closeout because I was in the worst position ever. It was big, but it wasn't a set, kind of an in between one. Somehow I got exploded out the back on that one. I was in such a bad position, but it turned out okay.
Strider [Wasilewski] went and got my board with me and we went back out. Makua [Rothman] had seen what had happened with the ski not being able to get going fast enough, so he offered to tow me. We waited for about 10 or 15 minutes. The set came, we called off a couple of guys, and went. I got to the bottom and couldn't believe how far I made it. At one point it felt like I was in a real bad spot, but I wasn't going to fall. And then I was getting to the end after making it through some whitewater and that's when I realized that I was falling and I wasn't going to make it. So that's the second wave I didn't make. I held on, tried to keep my bearings. I got rag dolled like all hell, but I came up, so it didn't really seem like it was as bad as I was preparing for. I came up, tripped out, grabbed my head, and couldn't believe it was on my shoulders.
So I was thinking, "Okay, I just got a good one, that was pretty incredible" … as every wave [out there] is. Everybody was just tripping out, telling me this and that. So I bailed. The next day Bruce [Irons] texted me a picture of it and I just couldn't even believe it.
So you went to Tahiti and caught two waves?
Right. But the one wave was, I don't know. At that level, I don't know.
What size board were you riding?
A 5'10" that didn't have a weight, and that's the one thing that I was really disappointed in myself for forgetting, but whatever…not forgetting, just being lazy.
How's that second wave rate with you?
Top two … [that] and Tavarua. It's been a big deal lately.
How does big Cloudbreak compare to other big waves?
Well, I've ridden some large waves, but I'd say those two days at Cloudbreak — at certain times — were two of the best days of surfing I've ever had. Just being out there; for conditions, size, length, quality — the best.
How has big wave riding changed in recent years?
It's changed tremendously. It's gone from a very tow-oriented focus to now everything's about paddle. There were so many huge days two years ago that it brought everybody together and we all started talking about equipment and strategy. So now all these people together have pushed it to where it is. But this is just the beginning of a new level of high performance big-wave surfing.
What's your take on big-wave safety in light of a couple of tragic deaths and Shane Dorian's new flotation invention?
I've always been a firm believer in making it as safe as you can. I've been wearing a paddle vest for the past ten years, even when it wasn't cool and everybody was calling me names. Slowly people have evolved. The ocean will always be stronger than any human, and it's best to be safe because it's not worth dying over. And I can say from the experiences that I've had I want everybody to be safe. And to see Shane to wear his paddle vest for the first time at Himalayas, I just think it's incredible for somebody like that, with the name and recognition that he has, to do what he's doing. It's long overdue and it's going to help push the level of progression along even quicker.
For the full interview and all the photos, go here:
http://espn.go.com/action/surfing/blog/_/post/7031181/nathan-fletcher-interview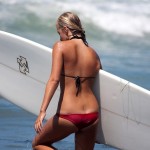 Become A Sponsor!
If you have a product or service that is a good fit for our surf community, we have opportunities for you to sponsor this blog!
Download our media kit now!