VIA – MIAMI HERALD
2 surfers bitten by sharks within minutes
Posted on Wednesday, 03.14.12
The Associated Press
New Smyrna Beach, Fla. — Authorities cleared the water in New Smyrna Beach after two surfers were apparently bitten by sharks.
Volusia County Beach Patrol reports that a teenage boy and a young girl suffered bites within five minutes of each other Wednesday afternoon. They were both surfing in waist-deep water in the same area, but they weren't together.
Beach Patrol says the boy was taken by personal vehicle to a nearby hospital with cuts on his calf. The girl was taken by ambulance with a bite to the ankle…
Read more here: http://www.miamiherald.com/2012/03/14/2694028/2-surfers-bitten-by-sharks-within.html#storylink=cpy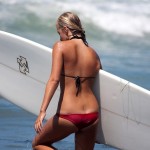 Become A Sponsor!
If you have a product or service that is a good fit for our surf community, we have opportunities for you to sponsor this blog!
Download our media kit now!