VIA HUFF POST


Sharks Attack Surfers At Florida's New Smyrna Beach (VIDEO)
Posted: 03/16/2012 1:31 pm Updated: 03/16/2012 1:34 pm
Two teenage surfers in Florida are now shark attack survivors.
SCROLL DOWN FOR VIDEO (WARNING: SOME GRAPHIC CONTENT)
Sydney Levy, 15, and Nick Romano, 17, were surfing in two separate locations on New Smyrna Beach on March 14 when the sharks clamped their jaws down on parts of their legs, WFTV News reports.
Sydney was longboarding with her mother, Valeh, when a shark bit her ankle and pulled her underwater several times.
"To me it was like a scene out of "Jaws" where the girl is getting sucked under and I said there is no way this thing is going to kill my daughter," Valeh Levy told CBS Miami.
Levy said she grabbed her daughter and pulled on her onto her board, while she called out for help.
Just yards away, Romano was also fending off a shark that had bitten his calf while he was sitting on his surfboard.
The 17-year-old received about 17 stitches, CBS News reports.
Officials cleared beachgoers from the water, but at least one witness said some people weren't too happy about it.
"A lot of people didn't want to come out because it's pretty good out there," Jared Smith told WFTV News.
Both teens were sent home Wednesday night and are recovering from their injuries.
But to Nick, the incident still seems surreal.
"Every surfer always thinks, 'One day I'm going to get bit by a shark.' Well, today was my day," he told CBS News…
For the video and full story go here:
http://www.huffingtonpost.com/2012/03/16/shark-attack-surfers–florida-new-smyrna-beach_n_1353387.html
And…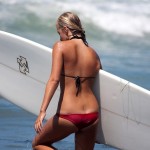 Become A Sponsor!
If you have a product or service that is a good fit for our surf community, we have opportunities for you to sponsor this blog!
Download our media kit now!