Not sure how environmentalists can get on other countries for shark fishing when we're doing it right here in our own backyards…just saying. Might want to work on this area of the world before we start slamming people who can't make $5 a day in their country working to feed their families…things have to change.
VIA – PNJ.COM
Teen reels in 874-pound shark
efore 1:30 p.m. today, the crowds at the Outcast Mega Shark Tournament at downtown's Palafox Pier and Yacht Harbor had been treated to more than 2,000 titilating pounds of tiger shark.
Fifteen-year-old Chase Jackson and the crew aboard Reel Chase set a tournament record with an 874.4-pound tiger shark.
Less than an hour later, Jacob Matlock's 787.6-pound tiger was hoisted to the scales.
Both sharks broke the tournament's record of 576.6 pounds set in 2007.
The boat My Amy was the first to the scales with a 304.6-pound tiger. They were followed by Justin Scher's 224.8-pound hammerhead caught on the boat Bull Market. Team Flatline brought in a 235-pound tiger just before the monstrous 874.4 shark was weighed.
For the full report go here:
http://www.pnj.com/article/20110806/NEWS01/110806007/Teen-reels-in-874-pound-shark?odyssey=tab|mostpopular|text|FRONTPAGE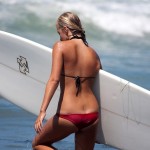 Become A Sponsor!
If you have a product or service that is a good fit for our surf community, we have opportunities for you to sponsor this blog!
Download our media kit now!