HOLY F…!


NASA MODIS Image of the Day: August 6, 2011 – Typhoon Muifa (11W) in the Philippine Sea
Source: NASA MODIS Web
Posted Saturday, August 6, 2011
NASA's Terra satellite captured a stunning image of Typhoon Muifa moving through the Philippine Sea on August 4 at 2:20 UTC.
Muifa is expected to bring Kadena Air Force Base rough surf, heavy rainfall and gusty winds as it passes by.
At 1500 UTC on August 4, Muifa had maximum sustained winds near 90 knots (103 mph) and was located about 100 nautical miles south-southeast of Kadena Air Force Base, Japan. It was near 25.0 North and 128.3 East and moving to the west-northwest at 6 knots (7 mph). The Moderate Resolution Imaging Spectroradiometer (MODIS) instrument aboard Terra captured an image of Muifa that showed that clouds were filling in the eye. At the time of the image, Muifa's northwestern edge was already over Kadena Air Force Base. Infrared imagery from the Atmospheric Infrared Sounder instrument (that also flies aboard NASA's Terra satellite) showed that the eye had filled in with clouds, but…
For the full story go here:
http://www.spaceref.com/news/viewsr.html?pid=37914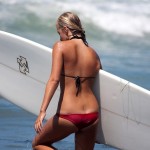 Become A Sponsor!
If you have a product or service that is a good fit for our surf community, we have opportunities for you to sponsor this blog!
Download our media kit now!