Surfed with Joey many times over the years, hope he's able to get stable…
VIA – OC REGISTER
Former pro surfer on road to rehabilitation
Joey Hawkins of Huntington Beach shares the story of his downfall and recovery. | "Like" Huntington Beach Wave on Facebook to see more news, photos and conversation.

Joey Hawkins riding the waves in Huntington Beach.
STEPHEN WALSH, PHOTO COURTESY BILL HOPKINS
By JAIMEE LYNN FLETCHER / THE ORANGE COUNTY REGISTER
The twinkling lights, shiny oversized ornaments and garland draped along the walls of South Coast Plaza remind Joey Hawkins of everything he is thankful for.
"The last two years, the only place I've seen Christmas lights was in a medical ward," he said.
For Hawkins, 41, a former pro surfer who is considered an innovator in longboard surfing, everything is brighter this holiday season.
This will be the first Christmas he will spend with his family since his 2009 arrest for possession of methamphetamine. Hawkins served four months in jail but relapsed twice after his release, landing him in a jail cell late last year.
This is not how Hawkins – who some consider a surfing legend – saw his life playing out.
The surfing world presented him a fast-paced life catching the best waves in the world by day and partying at night to celebrate the ride.
Over the years, Hawkins lost control.
He was found disoriented and wandering around the Huntington Beach Youth Shelter high on methamphetamine and living out of his car.
To those who knew Hawkins before that night, he was almost unrecognizable.
Hawkins, who has now been clean for a year, sits at a small coffee table, surrounded by cheery décor and excited to share his story about what is to come.
He will see Christmas lights set against the darkness of night and not overshadowed by the fluorescent glare of a medical ward.
He will see the glow of his daughter's smile as she opens her gifts on Christmas Day.
This is a gift Hawkins says he'll not risk losing again.
"I missed two (holiday seasons); I don't get that back," he said. "That's something I will always be sad about."
SPIRAL
Hawkins started surfing at age 3, his fist clenching his dad's thumbs to balance on the board. By age 8, Hawkins was riding his first wave and maneuvering in the surf.
His parents said his grace in the water was so impressive they called him the Fred Astaire of surfing.
Hawkins first started riding short boards in high school but switched to long boards after a back injury in the late 1980s.
In 1992, at age 22, Hawkins won the first Oxbow Longboard Championship in Biarritz, France.
He became a leader in the progressive longboard movement, using moves and techniques that challenged the classic longboard style that still hung on from the 1960s.
But his style didn't get the recognition he'd hoped it would. He gave up competitive surfing in 2000. And by 2004, Longboard magazine described Hawkins as the most overlooked world champion in surfing history.
In all his surfing years, Hawkins said he experimented with drugs. It was part of the scene but he kept it under control.
"I thought I was too intelligent to get addicted," he said.
After he left pro surfing he started working as a phlebotomist, a person who draws blood at medical facilities.
His relationship with his then-girlfriend was falling apart. He wasn't seeing his newborn daughter much.
Methamphetamine first served as an escape but soon became a necessity to function.
"I felt tired. I felt old," Hawkins said. "I felt like I couldn't keep up."
His drug use progressed.
Before long, Hawkins had no home and had separated from his family.
"Drugs don't care if you're the homeless guy on the street or a celebrity," said Hawkins' dad, Ronnie Hawkins.
In November 2009, when the younger Hawkins was arrested for possession of meth, police found him walking in a disoriented state near the youth center. At the time, he was living in his car and had a loaded gun under the seat.
"If you look at his mug shot he looks 20 years older," his dad said. "It's unbelievable."
Hawkins' eyes were dark and sunken, his cheeks were drawn and his skin sallow. The exuberance that pours from him now did not exist in that dark time two years ago.
"At that point," he said, "I had stopped caring."
REHAB
Hawkins says jail was the best thing that ever happened to him.
He learned patience and, more than that, gratitude.
"I think going to jail was the only way I could sit still long enough to make anything happen."
Jail wasn't a cure all. He attended meetings for recovering addicts and, initially at least, hated them.
"I wasn't having any fun," he said. "I struggled."
The temptation to start using again was powerful.
He relapsed and was sent to jail in May 2010 and again in November 2010. He served one month and four months, respectively.
It wasn't until Hawkins realized he would miss a second Thanksgiving and Christmas with his daughter Ava, that he started to take his rehab seriously.
"Right then I thought, this just isn't worth it," he said.
LOOKING AHEAD
Hawkins has a youthful quality that instantly invokes a smile from whoever he is talking to. His shaggy, sun-bleached hair skims his shoulder and he wears Vans marked up with Sharpie on the soles.
He uses words like "bitchin'" and speaks with an excited and animated candor.
Although there is lightness in his demeanor, his eyes and expressions tell of hard life lessons learned.
Hawkins said rebuilding hasn't been easy but it's been a relief.
Ronnie Hawkins said friends and people in the surf scene have been relived to see the world champion surfer rebuilding his life.
He recalled running into a surfing friend several months into his son's rehabilitation and seeing the man's reaction to how far his son had come.
"He had tears in his eyes he was so happy to see Joey doing well," he said.
Joey Hawkins is surfing again and said he feels at the top of his game.
He won the 1970s Surfing Competition in Huntington Beach in September and also volunteered for a Cystic Fibrosis surfing event to teach children suffering from the disease how to surf.
"I really loved working with the kids," he said.
Hawkins said he doesn't plan on getting heavy into competitive surfing again but wants to continue to make it a part of his everyday life and use the sport to help others when he can.
"If anything, I'm so grateful I had surfing as a get-well activity. It's a gift," he said "I just want to surf for my whole life."
Next on his rebuilding list is finding a job…
For the full article and photos go here:
http://www.ocregister.com/news/hawkins-329638-surfing-life.html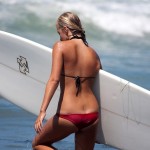 Become A Sponsor!
If you have a product or service that is a good fit for our surf community, we have opportunities for you to sponsor this blog!
Download our media kit now!