VIA- SHOOT ONLINE
The Go Big Project Announces Sal Masekela To Narrate "RUFFO"
Publicity Release Posted: December 03, 2011 00:05:52 EST
A Documentary Film, About Surfing Legend Anthony Ruffo, To Premier In 2012
Santa Cruz, CA & HOLLYWOOD, December 02, 2011 | SHOOT Publicity Wire | — Action sports host Sal Masekela will narrate the soon-to-be-completed documentary film Ruffo, about professional surfing legend Anthony Ruffo. When asked why he chose to lend his voice to this important and controversial film, Sal stated "In our society, it is easiest to write off people like Anthony Ruffo as failures. Taking a real and uncomfortable look into his story however, Ruffo forces the greater conversations of both redemption and prevention."
Continuing to emerge as action sports & entertainment's most sought after and engaging talent, Sal Masekela is the consummate voice of action sports, and as a result, the voice of Gen Y. Sal was co-host of The Daily 10, a countdown of the day's "top 10" entertainment stories, on the E! network. He is also host of both the X Games and Winter X Games on ESPN.
"Sal's credibility within the action sports community, coupled with his personal desire to participate in the solution to this problem, made Sal the perfect choice. We feel that Sal's participation will widen the audience, and bring more viewers to this important discussion. We are stoked to have him on the team," said filmmaker Rocky Romano.
The film documents Ruffo's struggles with methamphetamine addiction, and his ambitious efforts to lead his communities – both Santa Cruz and the professional surfing world – out of drug dependency and into a clearer and healthier future. The in-progress film has been featured on HBO Real Sports, ESPN and the New York Times, and over 50 publications from Australia to Hawaii, ahead of any public screenings, with the hope of debuting at a major film festival.
48-year-old professional surfing legend Anthony Ruffo was born and raised on the west side of Santa Cruz, CA. He is regarded as one of the "Godfathers" of the infamous Westsiders surf brotherhood who put Santa Cruz on the pro surfing map. Ruffo rose to surfing fame as the first champion of the Coldwater Classic in 1985 and still surfs at a professional level. With success came partying, with partying came addiction, and with addiction came consequences. Anthony is currently facing a potential five-year prison term for distribution of methamphetamine. His court date is December 12th, 2011.
Anthony voluntarily checked himself into the Clear Mind Healthy Planet treatment center in New York on November 5th, 2010. After completing his treatment, and feeling a renewed sense of purpose, Anthony began to look for a way to give back to the community of Santa Cruz. He partnered with the Clear Mind Healthy Planet team and created his own treatment concept: The Anthony Ruffo Project. He requested that Genie O'Malley and the Clear Mind Healthy Planet team provide an opportunity for his friends in the Santa Cruz community to heal from their addictions. Anthony helped introduce Genie's program to the city of Santa Cruz on December 10th, 2010 with a week-long open house. Over 40 people attended at least 4 hours a day for the entire week. Anthony is committed to repaying his community by volunteering his time with Clear Mind Healthy Planet, non-profits, and speaking about the consequences of drug use to local schools.
With his trial looming, the end of Anthony's story is yet to be determined, but the hope is that Ruffo will serve as a cautionary tale about life choices and as one of the most effective anti-drug use documentaries ever made. Ruffo includes some of the best surfers in the world candidly discussing Ruffo's rise to fame and his spiral into addiction, drug dealing, and criminal lifestyle. For the first time, they also break the code of silence in the surfing industry and open up about their own addiction issues, discuss the problem of drugs in the surfing industry, and include messages of hope for Anthony Ruffo and for others who suffer from addiction issues. Ruffo includes appearances from: Shawn "Barney" Barron, Dino Andino, Vince "The Godfather" Collier, Christian Fletcher, Peter Mel, Ken "Skindog" Collins, Darryl "Flea" Virostko, Peter Townend, Shawn Dollar, Tyler Fox, Troy Rettig, and Shane Desmond.
According to co-producer Robert Martin, "Ruffo is a groundbreaking behind the scenes look at the problem of drugs and addiction in the surfing industry. By taking an unflinching look at these issues, we hope to remove the stigma around this problem in the industry so that athletes can get the help that they need to turn their lives around."
The filmmakers hope to do more than raise awareness, and have begun initial development on a non-profit organization called "Clean Up The Line Up". The non-profit will be dedicated to providing help to action sports athletes with drugs and alcohol problems, as well as providing a platform for continuing education for action sports athletes.
Trailer for the feature film "Ruffo" V3.0 from The Go Big Project on Vimeo.
The film will premiere in 2012.
Film Credits
Director: Rocky Romano
Narrated by: Sal Masekela
Producers: Robert Martin & Rocky Romano
Executive Producers: Sandy Bell & John Meindl
Director of Photography: Rocky Romano
Lead Editor: Thomas Hill
Editors: Rob Armenti, Robbie Moen, Chris Renfer, Jesseca Simmons, and Chris Killen
Cinematographers: Cori Hume, Brendan Daly, Chelsea Nelson, Chris Renfer, Kyle Buthman, Elijah Crowell, Brendan Daly & Skim Shady
Sound: Kevin Cameron
Aerial Cinematograpy: Hover Effect
Graphic Artist: Brendan Daly
Still Photographer: Rocky Romano
Writer: Rocky Romano
Surfers: Anthony Ruffo, Pete "PT" Townend, Pete "The Condor" Mel, Darryl "Flea" Virostko, Christian Fletcher, Dino Andino, Vince "The Godfather" Collier, Shawn "Barney" Barron, Shawn Dollar, Shane Desmond, Tyler Fox, Ken "Skindog" Collins, and Troy Rettig
A Sweaty Dynamite Film. The Go Big Project. All rights Reserved, 2011 Ruffo The Film, LLC
Contact Info
Peter Bell, Publicist
The Go Big Project
Ruffo the Film, LLC
530-416-1514
Contact Peter via email
www.ruffothefilm.com
For the original post go here:
http://www.shootonline.com/go/index.php?name=Release&op=view&id=rs-web3-8206091-1322881788-2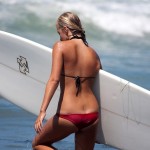 Become A Sponsor!
If you have a product or service that is a good fit for our surf community, we have opportunities for you to sponsor this blog!
Download our media kit now!