VIA – WPTV
From glowing boards to glowing waves, surf photogs push the limit
Posted: 10/06/2011
Last Updated: 10 hours and 53 minutes ago
By: James Wieland
Surf photographers are finding new and innovative ways to shoot surfing. The final frontier, at night!
Surf photography has been advancing just as fast as surfing has, but how many angles or video can you get of a dude dropping into a wave, getting barreled or carving it up?
We've seen the advent of the Go-Pro camera, the "ME" angle which was pretty cool to see. Now everyone has one and that angle has been played out.
Even 3-D is cool, but has been done.
Surf photographers have had to think outside the box to get that unique, innovative way to get a killer shot.
The focus lately has been night surfing. Puka Surf Company has come up with a glowing LED surfboard you could ride at night.
Argentine pro Aritz Aranburu gave it a try in Mundaka:
With super crowded breaks all over the world now, surfers are realizing half the day goes unsurfed. Mother nature helps out sometimes with a full moon, and how about now, GLOWING WAVES!
The Bioluminescent waves are caused by a red tide in Southern California. The red tide is an algae bloom that when agitated, gives off a blue glow at night. I have seen something like this here in Florida. I went on a camping trip in the panhandle once and when you robbed your feet across the sand, a green streak appeared. It was pretty cool to see. I didn't notice anything in the water like in Southern California though.
If you want to get a real killer shot, put a dude in a glowing wetsuit, on the LED surfboard and have him ride the Bioluminescent waves! Now that would be all-time!
Red bull had another idea, they said forget the wimpy LED lights…
For the full article go here:
http://www.wptv.com/dpp/sports/recreation_sports/surfing_blog/from-glowing-boards-to-glowing-waves,-surf-photogs-push-the-limit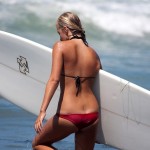 Become A Sponsor!
If you have a product or service that is a good fit for our surf community, we have opportunities for you to sponsor this blog!
Download our media kit now!