VIA – NY TIMES
A Surfing Legend Conquers Addiction, but Prison May Lie Ahead


Anthony Ruffo is a California surfing legend from Santa Cruz.
By SAM LAIRD
Published: October 7, 2011
SANTA CRUZ, Calif. — Not long ago, Anthony Ruffo surfed everywhere from Santa Cruz to South Africa, a glamorous life of big waves, photo shoots and beautiful women, bankrolled by corporate sponsors.
"Ruffo was a big deal, definitely someone you wanted to be like," said Shawn Barron, another Santa Cruz surfer.
Today, Mr. Ruffo is staring at prison. A recovering methamphetamine addict, he is charged for the second time with dealing the drug in the seaside town where he grew up.
Mr. Ruffo, 48, admits he once sold meth in partnership with a violent Latino street gang, the Norteños. His story illuminates meth's destructive march through Santa Cruz in recent years, reaching into a surfing community associated more with vitality and communion with the natural world than with drugs.
"In the back of my head, I was, like, I'm too deep in this game," Mr. Ruffo said in an interview at a Santa Cruz house where he regularly used drugs in the past and now helps other recovering addicts. "It's hard to pull out once you get there."
In 2005, Mr. Ruffo was convicted of possession of drugs for sale and sentenced to probation and a 12-step treatment program.
He said he stopped dealing after getting out of rehab but was unable to shake his addiction. In July 2010, the police raided his home and found an ounce of nearly pure meth with a street value of about $3,000. Mr. Ruffo said the drugs did not belong to him.
Mr. Ruffo still possesses the lithe, deeply tanned body of a professional surfer. His bright blue eyes flashed as he described his recovery, which is being chronicled in a documentary. Citing his sobriety of 11 months, and his work aiding other addicts, he is seeking a plea agreement that will keep him out of prison.
"Why put that in a cage?" Mr. Ruffo said. "If I come into court a changed man from when I got busted and I'm showing all these positive results, why wouldn't you want to keep that person going in that direction?"
But others see Mr. Ruffo's transformation as a cynical public relations ploy by a convicted drug dealer who once had everything and is now trying to avoid serving more than five years in prison.
Mr. Ruffo learned to surf as a teenager on Santa Cruz's Westside. He was immediately hooked. "It felt good to have something and know what I was going to do the rest of my life," he said.
At 21, he won one of Santa Cruz's first big professional surfing contests. He eventually picked up sponsorships from companies like Rusty and Body Glove. The surfing media loved his goofy-footed or left-facing style of riding waves, his agreeable personality and his aggressiveness in the water.
Mr. Ruffo said drug use was common on the pro tour throughout the 1990s. "Going to Brazil and getting $9 grams of coke was part of the fun," he said.
"Guys were coming out of their rooms loaded for their heats," he continued. "Then you had the hot chicks. It was part of the norm."
In the late 1980s, he was featured in an ad for Santa Cruz Surf Shop.
Mr. Ruffo said he was partying in Santa Cruz one night while in his mid-30s when a friend offered him meth. He loved the new drug but could not foresee that it would lead to his downfall.
Mr. Ruffo is not the only prominent Santa Cruz surfer to have struggled with meth.
Darryl Virostko, a three-time winner of the Mavericks big-wave competition and known as Flea, has admitted to overcoming a meth addiction. Peter Davi, another local hero, drowned in 2007 while surfing in Monterey County, and high levels of meth were detected in his system, according to autopsy reports.
Those examples reflect a wider problem that some surfers and other observers believe has been kept largely hidden in the multibillion-dollar surfing industry. Last November, Andy Irons, a three-time world champion surfer, was found dead at age 32 in a Texas hotel room with methadone, cocaine and meth in his system.
For the full story go here:
http://www.nytimes.com/2011/10/07/us/a-surfing-legend-conquers-addiction-but-prison-may-lie-ahead.html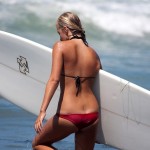 Become A Sponsor!
If you have a product or service that is a good fit for our surf community, we have opportunities for you to sponsor this blog!
Download our media kit now!