VIA – HAWAII 24/7
Fundraiser for Surf Filmmaker Mike Prickett Wednesday (March 28)
MEDIA RELEASE
Mike Prickett
WAIKOLOA—The Eddie Aikau Restaurant in Kings' Shops, Waikoloa Beach Resort, will hold a fundraiser on Wednesday, March 28, 11 a.m.-11 p.m. for Mike Prickett, the underwater filmmaker who was recently injured in a diving accident. The fundraiser coincides with other support activities around the state and nationally, as part of the "Pray for Prickett" campaign.
Prickett, whose feature film work includes Down the Barrel, Riding Giants, Step Into Liquid, Blue Horizon, Day of Days, and Red Sky Morning, is a longtime friend of the Aikau family. He was working on a film shoot in Tahiti when the accident occurred. Prickett dove 220 feet to save the life of another diver, suffered from severe decompression sickness and was paralyzed from the chest down.
After many hours in the hyperbaric chamber in Papeete, Prickett is showing some improvement and doctors are optimistic about his recovery. The Aikau family is asking for the community's help with Mike's medical expenses and will be collecting donations at the restaurant during regular hours on Wednesday.
"We were all so upset and concerned when we heard about Mike," said Linda Gillette Aikau, restaurant …
For all the information go here:
http://www.hawaii247.com/2012/03/27/fundraiser-for-surf-filmmaker-mike-prickett-wednesday-march-28/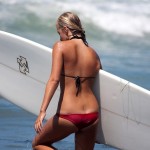 Become A Sponsor!
If you have a product or service that is a good fit for our surf community, we have opportunities for you to sponsor this blog!
Download our media kit now!