VIA – YAHOO
San Diego Surf Film Festival Makes Its Inaugural Debut in May 2012
By Killeen Gonzalez, Yahoo! Contributor Network 38 minutes ago
Starting in May 2012, California surf fans will have one more reason to be stoked about San Diego. There is a brand new surf film festival coming to the city and it promises to provide fun and fellowship for all comers. Here's the scoop:
Surf Film Fest Basics
The San Diego Surf Film Festival is slated to run from May 11 through May 13, 2012 at Bird's Surf Shed in San Diego, California. The event is designed to pay homage to independent surf films and serve as a communal meeting place for all those who love to surf. Surf films are currently being accepted for consideration and as such the list of films to be screened will not be revealed until April 15, 2012. Tickets to the festival are expected to be available for purchase after that date and prices are tentatively set at $10 for adults and $5 for groms.
Submissions
Those interested in submitting a film have until March 31, 2012 to get their entries in. The cost of entering a film ranges from $25 to $50, depending on the film's length. Full details on what films will be accepted and how to go about submitting one are available on the event's website.
About the Panel
The film festival's screening panel is comprised of an amazing group of folks including Liquid Salt magazine's Glenn Sakamoto, Spy Optic's Mark Marovich, GroPro's Adam Instone and renowned shaper/artist Ashley Lloyd. Llyod's surfboards are a thing of beauty as is the photography and artwork of Cher Pendarvis, another member of the festival's screening panel. Personally, I find Llyod's use of color inspiring and Pendarvis's surf photos intriguing. Her use of lighting gives some of her surf photos an almost mystical quality. But don't just take my word for it. Those that have never scoped out their work really owe it to themselves to do so. Photos are available on their respective websites.
About the Venue
Bird's Surf Shed is located on West Morena Boulevard. It affords visitors 4,000 square feet of surfboard eye candy…
For the full article go here:
http://sports.yahoo.com/top/news?slug=ycn-11163738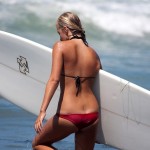 Become A Sponsor!
If you have a product or service that is a good fit for our surf community, we have opportunities for you to sponsor this blog!
Download our media kit now!