VIA – SAN CLEMENTE PATCH
Photo: Surf artists Roy Gonzales opened his Gallery on El Camino Real in San Clemente in Winter of 2011. Credit: Adam Townsend
Gnarly Art Gallery Opens in San Clemente

Surf/"lowbrow" artist Roy Gonzales celebrates pop icons and lowriders with his Camino Real Gallery.
By Adam Townsend
7:33 am
Driving south down El Camino Real before you get to the Presidio intersection, you may look to your left and see an iridescent green lowrider motorcycle in a shop window.
"It looks like it was put there by God," said a barber Friday morning who works down the street.
That's just part of Roy Gonzales' art gallery, which opened a few weeks ago to peddle the proprietor's iconic, toonish paintings, the work of fellow San Clemente artists, hip merchandise and an overall cultural experience.
Gonzales has lived in San Clemente since he was a boy; he said he was part of the first San Clemente High School surfing team.
Gonzales said his chief influences are artists like Robert Williams, who takes pop-oriented subject mater and makes addictive, eye-popping images from it; a one-man army against pretension that has made so-called lowbrow art the cultural force it is today.
"He said, 'This is art too; a naked chick and a hot rod is art too,'" Gonzales said.
He was in and out of the interview, on and off his cell phone, angling to get someone from the premiere West Coast art magazine "Juxtapoz" out to his shop. His marketing guy was changing his daughter's diapers in the back of the gallery.
Still, he needed to get out on the water. Gonzales said he had just gotten a new board and hadn't been surfing since he's been engulfed in the intense confusion of starting a business.
And the fact that he's an avid surfer makes itself apparent in Gonzales' bright and bold art.
Like many surf artists, his paintings' ocean waves are totemic; they have the same flawlessly deliniated white froth and imppeccably shaped tube—each curl with the yellow-aquamarine green of sun shining through the topmost sheath of water.
Still, his art is more than just eye candy. The bright colors and sensual forms catch your attention and draw it deeper to the subject matter.

Surf artists Roy Gonzales opened his Gallery on El Camino Real in San Clemente in Winter of 2011. Credit: Adam Townsend
For instance, in one of Gonzales' most impressive works on display at the shop, grotesque Europeans in wooden ships invade a pristine shore with native subjects worshipping native kings. It's a dark image …
For the full article go here:
http://sanclemente.patch.com/articles/gnarly-art-gallery-opens-in-san-clemente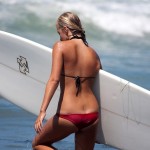 Become A Sponsor!
If you have a product or service that is a good fit for our surf community, we have opportunities for you to sponsor this blog!
Download our media kit now!