VIA – LA TIMES
COLUMN ONE
A surfer's defining moment in a wall of water
Nathan Fletcher was towed into a monster wave at Tahiti's thrilling and dangerous Teahupoo as a member of a surfing royal family. He emerged as a legend in his own right.
By David Wharton
December 18, 2011, 6:44 p.m.
Driving along the southern coast of Tahiti that day, Nathan Fletcher saw things he had never seen before.
The waves broke so big and hard that seawater crashed through berms, surging inland, scattering bits of coral across the road. Villagers pedaled their bicycles out to watch.
Down at Teahupoo beach, a big-money contest with Kelly Slater and some of the best surfers in the world had been put on hold. Government officials had declared a "code red" for safety reasons.
"Nobody wanted those waves," Fletcher said.
Nobody except him and his brethren, two dozen or so fanatics who specialize in riding monsters. Tipped off by the forecast, they had flown from various spots around the globe to gather in this remote town at the base of lush, green mountains.
Teahupoo — (pronounced Cho-pu) — produces one of the most thrilling and dangerous waves on the planet, massive amounts of water barreling over a gently sloped bottom, then smacking into a shallow reef. Its name translates roughly as "broken skulls."
Fletcher now looks back on that morning and recalls that it felt momentous. For two years, he had been telling buddies that something like this was on the way. "I didn't know what it was going to be or how it was going to be. I just knew it was going to be big."
With enormous surf pounding the shoreline — "warning drums," the locals called it — a primal mix of fear and excitement washed over him.
"Every nervous second thought you could have," he said. "Like a frenzy."
The date was Aug. 27, 2011, and his life was about to change.
::
If you don't surf, the name might not ring a bell. But if you do, Fletcher and his family qualify as Southern California royalty.
His maternal grandfather, Walter Hoffman, ventured across the ocean from Hollywood in the 1950s, one of the first haoles to surf Hawaii.
His father, Herbie Fletcher, was a Huntington Beach star who invented Astrodeck, those rubbery patches that kids stick on their boards for traction. He helped pioneer the use of Jet skis to whip surfers onto waves that are too big and fast to catch by paddling.
Then came Nathan's brash older brother. In the late 1980s, Christian Fletcher changed the sport by performing aerials, skateboard-style flips and spins on the water.
"These are historical figures," said Steve Pezman, publisher of Surfer's Journal. "There's a lot of lineage."
It was different with Nathan.
His looks are classic beach. Ruggedly handsome at 36, he wears a shadow of a beard along with a suitably rumpled T-shirt and unlaced shoes. The introspective son, he speaks of inheriting a love for the ocean — the surfer's stoke — but it was never that simple. Even as a kid, following his dad and brother into the water, appearing in magazines before he was old enough to drive, Fletcher could not help but wonder: How do I measure up to the family tradition?
"My dad made his mark, and Christian revolutionized aerials," he said. "I didn't do anything."
For the full article go here:
http://www.latimes.com/sports/la-sp-big-wave-surfer-20111219-1,0,3375606.story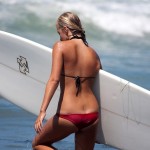 Become A Sponsor!
If you have a product or service that is a good fit for our surf community, we have opportunities for you to sponsor this blog!
Download our media kit now!