VIA – MIRROR UK


Great white shark feared to be in English Channel
by Steve Myall, Daily Mirror 5/11/2011
A GREAT white shark was last night feared to be in the English Channel after another man-eater was savaged.
A 5ft blue shark washed up on a beach had a giant bite mark, suggesting it had been attacked by an even bigger predator.
A dog walker who discovered the dead shark sent pictures to experts who said it could have been attacked by a Jaws-like killer.
Vet nurse Nikki Lambert, 27, who found it on Camber Sands in East Sussex and emailed photos to the Marine Conservation Society, said: ""It had a hole just behind its flipper through which you could see its internal organs.
"I was told that the only animals who would attack a blue shark like this would be a great white shark or a killer whale.
"But I suppose it's possible the wound was made after it was dead by a dog or birds."
Blue sharks, which can grow to 12ft and have killed humans…
For the full article go here:
http://www.mirror.co.uk/news/top-stories/2011/11/05/great-white-shark-feared-to-be-in-english-channel-115875-23538753/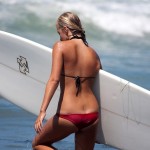 Become A Sponsor!
If you have a product or service that is a good fit for our surf community, we have opportunities for you to sponsor this blog!
Download our media kit now!