VIA – OC REGISTER


Published: Nov. 4, 2011 Updated: 6:10 p.m.
Text: Text: Larger Text: Smaller Text: Reset Next Article »
New sign at Trestles will welcome surfers
San Diego County's North County Transit District, which owns the railroad bridge that gives the world-famous surf spot its name, has embossed a sign in block letters on the side of a new $12 million trestle.

By FRED SWEGLES / THE ORANGE COUNTY REGISTER
As surfers know, you can find all sorts of nutty signs at Trestles – most of them hand-scrawled onto a paved trail that leads from the south end of San Clemente to the acclaimed wave-riding spot, Some of the scrawls are comical, some not too welcoming.
Now there is a new sign to greet visitors, a simple but elegant one that is sure to become a landmark.
he North County Transit District has embossed the letters "TRESTLES," one by one, into concrete blocks on the side of a new $12 million railroad trestle being built to replace a vintage
1940s bridge that the agency said was getting too costly to maintain.
The lettering swings into view as surfers approach the train trestle to walk under it and get to the beach. When the trestle is finished next spring and scaffolding is removed, look for the sign to be much-photographed by visiting surfers from places such as Japan and Europe as they arrive at the California surfing mecca.
"A lot of thought went into the lettering on the side of the bridge," said Alex Wiggins, NCTD spokesman. "I think it turned out pretty well."
BOUT THE TRESTLE
Work began: September 2010
Finish: Early 2012
Why do it: Aging wooden trestle costs $250,000 a year to maintain.
Also: It's on the nation's second-busiest rail corridor.
How many trains: About 45 every weekday, which is expected to increase
Project cost: $12 million
Funding: American Recovery and Reinvestment Act
Employment: About 150
Beach access: The work zone is fenced. A public path under the bridge remains.
Interruption: Work was halted from February through August this year so as not to disturb nesting season for the California gnatcatcher and the least Bell's vireo.
Work resumed: In September


Goal: Finish before the 2012 nesting season…
For all the information and more photos from Trestles go here:
http://www.ocregister.com/news/trestle-325533-trestles-surfers.html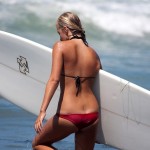 Become A Sponsor!
If you have a product or service that is a good fit for our surf community, we have opportunities for you to sponsor this blog!
Download our media kit now!