VIA – CBS 8
Grey whale calf spotted in surf line at Mission Beach
Posted: Apr 12, 2012 1:23 AM EDT Updated: Apr 12, 2012 2:36 AM EDT By Richard Allyn, Reporter
MISSION BEACH (CBS 8) – A young grey whale that came surprisingly close to shore in Mission Beach appears to have reunited with its mother, according to Sea World.
The calf, estimated to be between 8 and 12 feet long, was spotted in the surf line at Mission Beach at around 6pm Wednesday, near Lifeguard Tower 17 and El Carmel Place.
Lifeguards and Sea World animal experts were called in as a precaution, in case the young whale beached itself on shore and was unable to return to the water on its own.
"It was a spectacle for sure," said Mission Beach resident David Woods. "I was just about to hit the water, and out of the corner of my eye I saw a four- to five-foot head pop out of the water."
Experts says this grey whale calf most likely got separated from its parent, as thousands of grey whales carry out their annual migration from Mexico to Alaska this time of year.
"Young animal, probably just exploring," said Dr. Hendrik Nollens, a vet with Sea World. "It got away from mom and (was) exploring the edges of where it can go… just being a kid."
Dr. Nollens says while it's not unusual for young whales to come close to shore to protect themselves in shallow waters from predators, Wednesday's sighting is a rare one.
"They don't usually come in the surf like this animal did," Dr. Nollens told News 8.
This grey whale calf's appearance provided an unforgettable experience for dozens of onlookers, including one family visiting from Utah.
"We saw a lot of dolphins here the last couple days," said mother Mindy Christensen. "And then we went down to the Children's Pool where there's all the seals, and then came here and saw a grey whale."
Less than an hour after its first sighting, the calf appeared to have departed the shallow waters.
"Mom came close to shore and…"
For the full article and video go here:
http://www.cbs8.com/story/17390721/grey-whale-calf-spotted-in-surf-line-at-mission-beach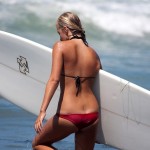 Become A Sponsor!
If you have a product or service that is a good fit for our surf community, we have opportunities for you to sponsor this blog!
Download our media kit now!