VIA – EASY READER
After his dream of competing on the professional world surfing tour was derailed, former Peninsula High surfer Alex Gray turned his sights on bigger game
Alex Gray at Teahupoo. Photo by Glaser/A-Frame
Last August, Alex Gray learned that the Billabong Pro Tahiti at Teahupoo (pronounced Ch?-Poo) was to be postponed because the waves were too big for competition.
Gray promptly hopped on a plane and got over there.
"Basically they had the world's best 45 surfers in town and about 20 of us flew in and went out on a day that most everyone was standing in the channel watching," said the 25-year-old Peninsula High graduate.
The 2004 South Bay Surf League MVP winner now earns his living chasing big waves, or as he calls them, "waves of consequence."
Kelly Slater, the 10-time world surfing champion, looked at the conditions that morning in Teahupoo and passed.
"Someone's gonna get killed out here," he said.
"It was the first time I had ever worn two life vests, They were the craziest waves I've ever seen and it was the most scared I've ever been," Gray said.
The waves were four to five times overhead – 30- to 40-feet tall. But wave height isn't what distinguishes Teahupoo. It's the thick lip, which pitches out as far as the wave is tall and collapses over a coral reef just five to 10 feet deep
"There were waves that I couldn't even fathom," Gray said. "I went to Tahiti with the intention of catching the biggest waves of my life. We knew it was going to be big. How big it actually got I had no idea."
Alex Gray on the beach at Pipeline during the Backdoor Shootout in January. Photo by Mike Balzer
Gray chose to leave the World Qualifying Series contest circuit two years ago to pursue a more lucrative career appearing in surfing videos and magazine photo spreads. In short, he only surfs when the surf is good and getting paid for it.
Big wave riders study weather patterns to predict when and where the big swell will hit land. It could be Hawaii, or sometimes obscure newly undiscovered breaks in places such as Africa, Scotland and Egypt. Gray travels on average 10 months out of the year.
Body Glove, Volcom and half a dozen other surf industry sponsors underwrite Gray's travels and enabled him to recently buy a home in Torrance. His growing reputation as a big wave rider earned him an invitation as an alternate to this winter's Eddie Aikau Big Wave Contest in Hawaii, one of the sport's most prestigious events.
Gray prefers paddling into waves rather than being towed in. But on that August day in Teahupoo the waves were too fast to paddle into, so he accepted a tow-in by a Wave Runner.
"That was mentally the toughest surfing challenge I've ever really pushed myself to do," Gray recalled. "The hardest thing I've ever done was getting out of the boat that day."
Scientists have found that thrill seekers' brains' have fewer of the auto-receptors that regulate pleasure inducing dopamine. Highly addictive drugs affect the dopamine system in a similar way. Gray said he's simply after the feeling he got the first time he rode a big wave.
"You're really just overcoming your own fear and pushing your own limits," Gray said. "I feel like we really restrict ourselves with our minds. Surfing allows me to open up more and find what I'm capable of."
About 90 percent of the waves in the first hour that day at Teahupoo were unmakable closeouts. One of them drove Gray to the bottom with such force that it ripped off the life vest he was wearing over his wetsuit. The wave held him under long enough for him strap the life vest back on. Fortunately, his second life vest was under his wetsuit, enabling him to float back to the surface and wash into the safety of the Teahupoo lagoon. (See cover photo by Glaser/A-Frame).
"When surfing waves of consequence you sometimes want to take a spill instantly," Gray said. "It's what you're most afraid of. As humans, we think negative before we think positive and the fear begins to take over. Once you do find yourself in a bad situation and you come up okay, it's kind of a relief. I can do this."
About an hour later he was back in the water. He caught a smaller wave and fell again.
Shortly before sunset, he got back on the Wave Runner and returned to the line-up for a final attempt. After letting go of the tow line he dropped down a 30-foot-plus face and disappeared inside the barrel for such a long time that spectators feared he had been pile driven to the bottom once again. Then a ball of spray with the force of an avalanche exploded out of the barrel, dragging an exuberant Gray with it.. The wave earned him toe 2011 Surfer Pool Award for best barrel ride.
Gray recalled the ride when accepting the award last December at the Surfer Poll dinner in Hawaii last December.
"There was a moment at Teahupoo where I just had goose bumps and couldn't feel any limb on my body," he told the crowd. "This feeling came over me and I thought, 'What would my brother think if [he knew] I was here right now?' This calming smile came over me. He probably wouldn't believe this and he would be so stoked for me. That's one of the coolest feelings in the world that even though he can't be with me physically I can bring him everywhere because without him I wouldn't have this gift of surfing."
A role model
Alex Gray speaks about his brother, Chris, at Palos Verdes High School last month. Photo by David Rosenfeld
At Palos Verdes High School on a recent school day, Gray elaborated on the story of that wave before a packed gymnasium of students. His brother died seven years ago, at age 20, from a heroine overdose.
Chris Gray, he said, had none of the characteristics people would associate with heroine addiction. He was smart and handsome.
"I'm hoping the message was clear to all the students that drug abuse happens to good people," said Vice Principal Brent Keykundahl. "It's not just people on the streets. Good people with good friends and good homes and great parents can make poor choices that lead to the ultimate sacrifice."
Gray's parents, too, haven't shied away from telling their story as a way to connect with others in grief and to dispel the myth that parents of drug abusers did something wrong. Laurie Gray is active in a local grief-counseling group and recently helped establish a web site for students seeking mental health counseling.
"If we can help one other person or let society or people in our community know there is no shame, everyone has different struggles, that's our goal," Laurie said. "In telling Chris's story and Alex's story of resilience and courage and carrying on with dignity and grace, I think it allows a conversation."
Telling his brother's story at area high schools has been as much of a healing process for Gray as it is a learning experience for the students. His message is multi-facetted – that life isn't easy, drug abuse can strike in unlikely places, seek help if you need it, and there are plenty of ways to have fun and pursue your dreams without drugs.
"I'm just glad I'm addicted to something healthy," he joked.
The lives of the two young brothers revolved around surfing. Both competed in contests at a young age.
When they weren't competing or taking family trips to California beaches, they surfed Torrance Beach. After his brother died, Gray had a hard time getting back in the water. Then, after about two months, he decided the best way to honor his brother would be to surf the best he possibly could.
"I surf in my brother's honor, always," Gray said. "Miraculous things happen. I've had them in situations I was scared for my life. There are moments when it's like, 'Oh hi Chris. The reality is that grief is real and it can eat you alive. They say time heals but there isn't a day that goes by that I don't think about him. He's giving me this life. Everything I have is because of him."
Going pro
Alex Gray competing in January for Body Glove at the Da Hui Backdoor Shootout at Pipeline. Photo by Mike Balzer
Joe Bark, a long-time surfboard and paddleboard shaper, and Redondo Beach fire fighter, has known Gray since he was a boy. He described Gray as widely respected largely because he's so humble.
"He'll come back from a trip and you have to pry these stories out of him," said Bark who credits Gray's success as much to his attitude as his surfing prowess.
"There are guys who surf big waves…"
For the full article go here:
http://www.easyreadernews.com/49525/alex-gray-big-waves/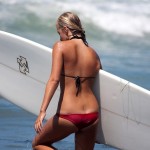 Become A Sponsor!
If you have a product or service that is a good fit for our surf community, we have opportunities for you to sponsor this blog!
Download our media kit now!