VIA – OC REGISTER

Happy birthday, California! 40 reasons we love you!
Published: Sept. 6, 2011 Updated: Sept. 9, 2011 5:37 p.m.
California turns 161 this week. There's a lot to love: sun, surf, stars, beaches, babes … Here's our Top 40 list!
Waves
Hawaii may have pioneered modern surfing, but California popularized it, starting with the 1960s movie "Gidget," which transformed surfing from underground sport to national fad. California embodied the new surf culture – young and carefree. More surf movies and surf bands followed. The Beach Boys' music and "The Endless Summer" movie catapulted surf culture to new levels. The sport has steadily grown since.
Moving from fad to the highest levels of athletic competition. Huntington Beach, known as Surf City, hosts the US Open of Surfing each summer.
MARK RIGHTMIRE, THE ORANGE COUNTY REGISTER; TEXT BY TOM BERG
Perfect weather. Perfect beaches. Perfect bodies. What's not to love about California? To celebrate the 161 years of statehood, let's look at all the Golden State has to offer.
FRAZER HARRISON, GETTY IMAGES; TEXT BY TOM BERG
For the full article and all the photos go here:
http://www.ocregister.com/articles/california-315651-happy-love.html?pic=2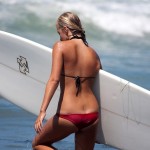 Become A Sponsor!
If you have a product or service that is a good fit for our surf community, we have opportunities for you to sponsor this blog!
Download our media kit now!