Words by – Chris Nomad
Yup, you saw the first post here and then it went all over the world but now Keala Kennelly updated her photos so we thought we'd share them since it's such a nuts wipeout…just remember she's doing fine now. Don't look if you can't handle it (seriously!).
Two words: Wave Warrior

If surfers didn't fear Teahupoo before they've gone to a whole new level looking at these…
For the original post with VIDEO go here:
http://surftweeters.com/photo-warning-keala-kennelly-tweets-photo-of-teahupoo-carnage/
Tweeted last night by Keala "Got my stitches out yesterday. All 51 of them. That was really uncomfortable but I am happy to have them out."
To follow Keala on twitter check her out at: @KealaKeenelly
To follow me on twitter check out: @NorCalSurfNomad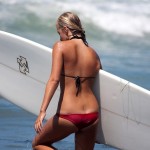 Become A Sponsor!
If you have a product or service that is a good fit for our surf community, we have opportunities for you to sponsor this blog!
Download our media kit now!