VIA – BEAUMONT ENTERPRISE
A Harris County woman is suing a surfer whose board hit her in the face while she was swimming in the Gulf of Mexico, court records show.
Lori Reynolds filed a lawsuit last week against Florida resident Steven Long IV for their April 16, 2011, collision in Galveston. At the time of the incident, Long lived in Galveston.
Reynolds said she was enjoying a day at the beach and went into the water to watch her friend's child who wanted to swim. Long was surfing in the same area.
The lawsuit states "suddenly and unexpectedly" Long lost control of his surf board, which struck Reynolds in the face.
The lawsuit states that Long lost control of his surfboard, striking Reynolds in the face. She said the accident left her with severe injuries, including a facial scar.
She is asking for damages and payment of her medical bills from Long, claiming he was negligent in not tethering the board to his leg, failing to keep a proper lookout and a safe distance.
The Galveston County Court has scheduled a status conference for July 11.
Read more: http://www.beaumontenterprise.com/news/houston-texas/houston/article/Harris-County-woman-sues-after-being-hit-face-by-4453796.php#ixzz2RLUswuxn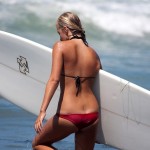 Become A Sponsor!
If you have a product or service that is a good fit for our surf community, we have opportunities for you to sponsor this blog!
Download our media kit now!